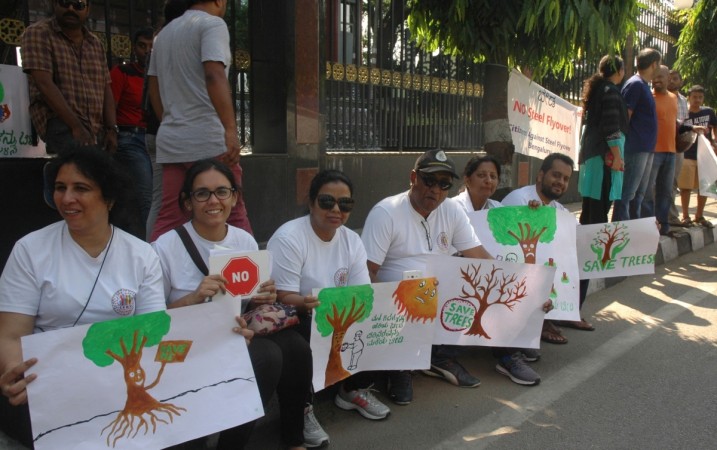 A day after Karnataka Chief Minister Siddaramaiah dismissed public concerns that oppose the Rs 1,791-crore steel flyover project, Citizens Against Steel Flyover (CASFo) said that they will resort to legal methods to continue their resistance.
There is already a petition before the Karnataka High Court questioning the government's move. The movement CASFo, also reinvented itself as Citizens For Bengaluru, vowed to fight against the government's decision. The group said on Tuesday that it will file more petitions in courts.
Legal experts believe that the proposal may not pass legal scrutiny as they cite a similar PIL filed in the High Court by Leo Saldanha that was against the Metro project passing through Lal Bagh Garden and KR Road. The then Chief Justice J S Khedar and Justice A S Bopanna presented an order on November 16, 2010, that stated that any infrastructure project that needs to be implemented under provisions of the Karnataka Town and Country Planning Act mandates a thorough consultation with the public.
"The public needs to be involved in the conceptualization, budgeting as well as finalization stages. That has not happened with the steel flyover project and those involved are guilty of contempt of the court order," Saldanha was quoted as saying by the New Indian Express.
Saldanha also added that Bangalore Development Authority (BDA) Commissioner Rajkumar Khatri, Additional Chief Secretary (Urban Development) Mahendra Jain, former Chief Secretary Aravind Jadhav and even Chief Minister Siddaramaiah can be booked for contempt of court.
The citizens' forum is also set to take a referendum with sealed polling boxes across the city. Citizens can vote yes or no along with their name and telephone number on a piece of paper and drop it in the box. Volunteers will go door to door to get votes against the flyover and conduct polls in Rotary Clubs.
Polling boxes will be placed at the Rotary auditorium on Sunday, October 23. Starting November 1, citizen volunteers will be conducting all-night vigils on the stretch between the Hebbal flyover and Basaveshwara Circle to deter contractors from chopping trees.
To register for the consultation, email winbackindia@gmail.com with the subject: Register for consultation.
A documentary by filmmaker Gautam Sonti, co-directed by Usha Rao, also invokes an eerie deja vu-like-moment of the present issue. The film has been described as one that "shows history being crushed by the state's bull-headed ambitions of development." Here is the trailer of the film: