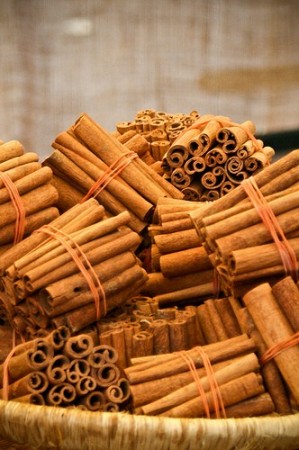 Cinnamon can help improve fertility in women affected with a common hormonal disorder, researchers reveal.
Dr. Daniel Kort, a postdoctoral fellow in reproductive endocrinology at the Columbia University Medical Center in New York City found that cinnamon supplements can help women with polycystic ovarian syndrome (PCOS) become pregnant, Health Day reported.
Polycystic ovarian syndrome (PCOS) is a common disorder in women that leads to irregular menstrual periods, acne, obesity and excess hair growth. The condition impairs fertility, due to which women struggle to become pregnant. The high level of insulin resistance associated with the disorder is one of the main factors that cause infertility. The excess production of insulin in the body leads to additional production of testosterone in the ovaries.
Nearly 16 women with polycystic ovarian syndrome (PCOS) participated in the study. During the study period of six months, 11 women received 1,500-milligram cinnamon supplements daily, while the rest took placebo pills. Researchers analysed and recorded the lifestyle (diet and activity levels) and menstrual cycle details of the participants.
Women who took the cinnamon supplements achieved better menstrual cycle regularity (4 menstrual periods) compared to the control group (2.2 periods). Adding more solid evidence to the power of cinnamon, two women became pregnant within three months of the cinnamon treatment.
The occurrence may be due to cinnamon's ability to improve glucose and insulin process in the body, researchers explained. Previous studies have shown that cinnamon helped manage blood sugar by reducing insulin resistance.
"It's unlikely to be the sole source of improvement or to change entire (treatment) protocols," Study author, Kort, told Health Day. "It's not going to regulate every patient who takes it, but a good percentage who take it may experience some benefit, and the side effects are low. It's relatively cheap and well tolerated."
The study has been presented at a meeting of the International Federation of Fertility Societies and American Society for Reproductive Medicine held at Boston in the US, this week.
Efforts to help women with polycystic ovarian syndrome (PCOS) have been going on from a long time. A study published in the journal Clinical Science reported that consuming a high calorie breakfast improved fertility by boosting ovulation and decreasing testosterone in women with polycystic ovarian syndrome (PCOS).
Following are some tips from experts at the Mayo Clinic in the US, to improve fertility in women affected with this condition:
Shed the excess fat and manage weight gain
Follow a diet rich in fibre (whole-grain bread, cereals, brown rice, beans, whole-wheat pasta and barley), low in carbohydrates. Avoid taking unhealthy foods including cookies, soda, candies and doughnuts
Remain active through exercises