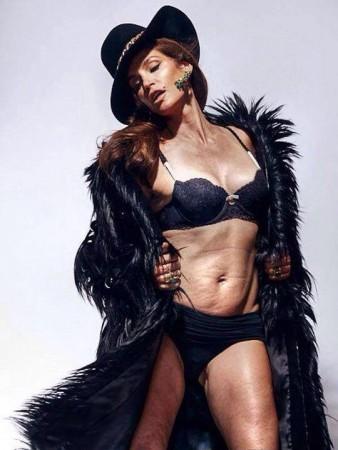 American supermodel Cindy Crawford's unretouched photo has gone viral on Internet. In the leaked image, she is seen wearing a black lingerie set, with a fur coat and a black hat.
Although the actual source of the picture is unknown, it received an immense amount of positive response on various social networking sites.
Crawford's photo initially surfaced on Reddit and there was a buzz that it will appear in the April issue of Maria Claire magazine, reported The Independent.
However, the publication revealed that the image was emerged from a December 2013 cover story of its Mexican and Latin American issue.
Meanwhile, the 48-year-old model's unretouched photo started trending on Twitter after ITV News anchor Charlene White posted it.
"Cindy Crawford's April spread in Marie Claire features 100% non-retouched photos. Take a bow Ms. C." she tweeted.
Meanwhile, several people have believe the leaked image is an inspiration for many to portray their natural look with confidence.
Here are some tweets on Cindy Crawford's unretouched photo:
She looks hot!!!
So much respect for @CindyCrawford & her unphotoshopped photographs. So inspiring & great role model. #beautiful #CindyCrawford
Unretouched shots of #CindyCrawford released this week - still stunning! Would LOVE to see more of this #bodyimage
Major respect to #CindyCrawford. Took so much guts in a world where a person with photoshop skills tells you how your body should look like.
ABSOLUTE BABE! #CindyCrawford looks absolutely fantastic- pure natural beauty- we hope to look this great at her age!
Omg thank you #cindycrawford for your untouched beautiful Marie Claire photo You will break the internet
Hearting Cindy Crawford for posing for these untouched pics. She looks amazing AND real
At last! Supermodel rejects photoshop to show what real beauty looks like. Fair play #CindyCrawford http://bit.ly/1zdrmBK
Hats off to #CindyCrawford for posing and refusing air brushing on her photo. Brave and honest and helps all of us be real!
Bravo to #CindyCrawford and @marieclaire for their upcoming April unretouched no Photoshopped issue!