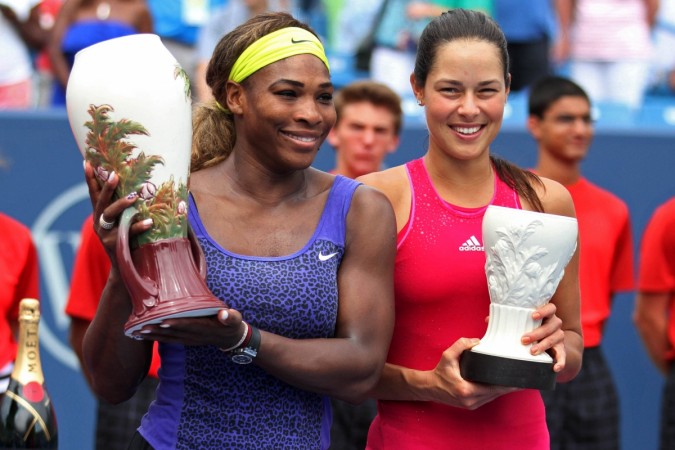 World number one Serena Williams seems to have found her groove ahead of the US Open as she clinched her first Cincinnati Masters title, beating Ana Ivanovic in straight sets on Sunday in Mason.
Serena, after making an early exit from Wimbledon, has been in good form on the hard courts. The American won the Stanford Open, reached semifinals of the Toronto Masters, won the US Open Series women's title and now her maiden crown in Cincinnati.
Ivanovic came out firing in the opening set and took a 3-1 lead. Serena, however, was in no mood to let the Serbian race away with the opener and won ten points in a row to take control of the set and match.
The American, after winning the opening set 6-4, clinched the second set 6-1 to register a thumping win over her Serbian opponent in just 64 minutes. Ivanovic committed a number of unforced errors and was never able to match the consistency of the 17-time singles major winner.
"I was just so excited for this final," Williams said. "I just really felt like I had nothing to lose. So I was able to relax. It truly feels good. I didn't expect to come here and win or have such a good summer. I've just been trying to go with the flow and be positive and it's working out.
"Congratulations to Ana -- she's such a great champion and such a wonderful, wonderful young lady. It's so good to see wonderful women like her leading our tour right now. It's just amazing to finally win here. The fans were amazing and it's so wonderful to be here."
Serena, despite suffering an early break was in complete control of her game, as she fired 12 aces and broke Ivanovic's serve four times. The American won 80 percent points on the first serve, compared to just 50 percent from the Serbian.
The 2009 French Open champion Ivanovic was outplayed by Serena as she extended her head-to-head record over the Serb to 7-1. Ivanovic, however, insisted that she is quite happy with her preparations and form ahead of the US Open.
"I really felt she was really solid today," said Ivanovic. "Not only on her serve, but on the ground strokes I felt like she was dominating. I did have chances, especially when we started the rallies, but I just couldn't get the serve back.
"It was still a great match even if I lost. I'm looking forward to the US Open it's the last Grand Slam of the season and the most exciting one. I'm looking forward to trying to do well."