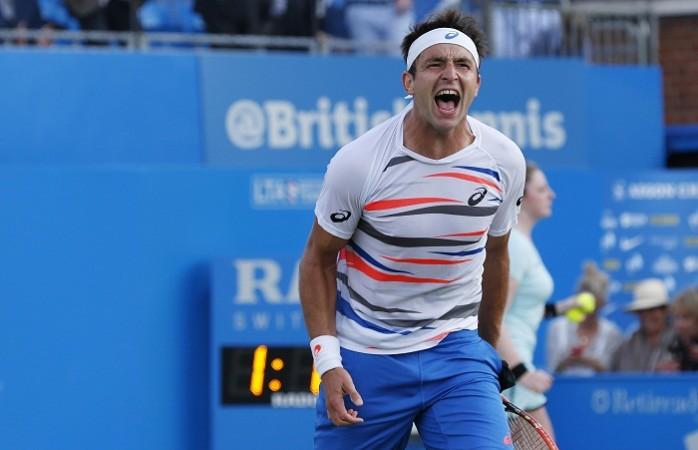 Marinko Matosevic made the headlines once again for all the wrong reasons.
The Australian lived up to his 'Mad Dog' nickname on Tuesday, when he lashed out at the chair umpire during his Cincinnati Masters first round match against Nicholas Mahut.
The world number 89 defeated Frenchman Mahut 6-4, 7-6 (7-4) to advance to the second round, but was infuriated when his attempted match point ace was called out.
The chair umpire overruled the point and interrupted Matosevic's premature celebration. Matosevic then pointed at the umpire and yelled something at him.
When Matosevic finally sealed the match a little later, he kicked at an on-court camera and planted a dummy spit before shaking his opponent Mahut's hand at the net. He refused to respond to the umpire's handshake.
The 29-year-old is likely to face a fine for his derogatory actions on court at the end of the match at the Cincinnati Masters.
This adds to his long list of controversies.
The Australian was surrounded by controversy at Wimbledon this summer when he remarked that he didn't "think that highly of the women's game" after he was asked if he would ever follow Andy Murray's lead in hiring a female coach.
"For me, I couldn't do it since I don't think that highly of the women's game," Matosevic said.
"But, you know, his mum coached him and she did a great job with him so we'll see what happens."
At the 2014 Australian Open in January, he lashed out at fans for calling him by his nickname 'mad dog'. He said post match, "Hearing the stupid nickname ... (it gets to me) because it's not my nickname. Some idiot put it on Wikipedia."
Matosevic will next face 11th seed John Isner, who defeated Kevin Anderson 6-3, 6-4.
This meltdown earned him criticism on social media with people suggesting that he needed "a lesson from the [Roger] Federer school of class".
Rest assured that the tourney director and ATP supervisor will pay a visit to the locker room to greet Marinko Matosevic after his antics.

— Kyle LaCroix (@TennisTycoon) August 11, 2014
Marinko Matosevic giving fans reason to not embrace him. Not shaking umpires hand and spitting and kicking at the cameraman #stayclassy

— Kyle LaCroix (@TennisTycoon) August 11, 2014
Mad Dog Matosevic in full-on crazy mode: pic.twitter.com/FwZlpmj7SF

— Amy Fetherolf (@AmyFetherolf) August 12, 2014
Meanwhile, fellow Australian Bernard Tomic exited the tournament in the first round, losing to Gilles Simon 6-3, 6-2.