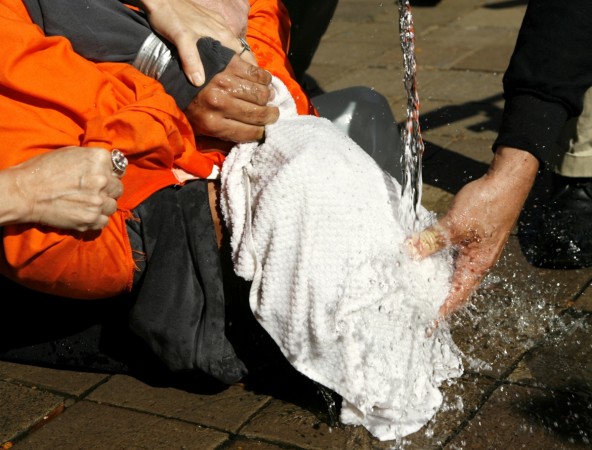 The UN special rapporteur for torture, Juan Mendez, has asserted that the United Nations will not take "no" for an answer and that the United States will be punished for 'each torturous act' revealed in the recently released Senate report on CIA interrogation techniques used on suspects post 9/11.
The comment, given to a Russian TV Channel, came after former Polish president admitted that the country had allowed the US Central Intelligence Agency (CIA) to run a secret 'black site' or a prison on its territory.
This revelation comes close on the heels of the release of the Senate 'torture report' which highlighted the gruesome interrogation techniques used by the US intelligence agency to extract information from al-Qaeda suspects.
On Wednesday, former President of Poland Aleksander Kwasniewski confirmed that during his term Warsaw had offered to host the secret CIA facilities. But he insisted that Polish officials had not authorised harsh treatments that were detailed in the Senate report, adding that subsequent pressure from Polish officials had ended the detention activity in the country.
"The US side asked the Polish side to find a quiet site, where it could conduct activity that would allow to effectively obtain information from persons who had declared a readiness to cooperate with the US side," Kwasniewski said in a press conference.
The secret Polish site was code-named 'Blue' under the CIA system of colour-coding the black sites in order to avoid using the names of the countries hosting them. Other sites included Lithuania (Violet), Afghanistan (rainbow colours of four sites), and Thailand (Green).
'Immoral, Unfair, Illegal'
Meanwhile, as pressure mounted on the UN to investigate the reported humiliating treatment meted out to prisoners, the UN special rapporteur for torture Juan Mendez told Russian channel RT that the UN will "not take no for an answer".
"I think in fact not only Poland, but many countries cooperated in this immoral, unfair, and illegal practice. And all countries have a responsibility to investigate and come clean," he said
Asked if the UN was going to push for the perpetrator of the torture to be brought to justice, he said: "There's an affirmative obligation to investigate, prosecute, and punish every single act of torture. And we're going to continue to insist on that. We're not going to take 'no' for an answer."