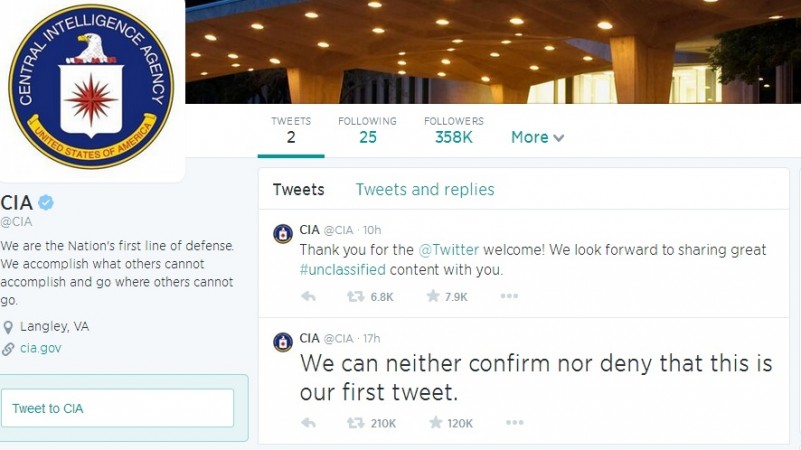 The CIA has finally chosen to step to the world of social media with a dramatic entry into Twitter, but if you thought the agency had a bunch of serious people taking serious stuff, you might probably have to think again.
The unexpected move led to many suspecting that it could be just another parody account, especially because of the light hearted first tweet which said: "We can neither confirm nor deny that this our first tweet".
We can neither confirm nor deny that this is our first tweet.

— CIA (@CIA) June 6, 2014
But it wasn't long before people discovered that the spies too had a good sense of humour. Within hours of the tweet going live, it had been re-tweeted over 200,000 times as the account continues to gather over 358,000 enthusiastic followers.
Quite ironically, the Twitter handle itself follows only 25 people including various departments of states, FBI, Homeland Security and NASA among others.
Soon after its first tweet and as the debut appearance received massive response from public, it tweeted another funny comment thanking the public for their support and promising that they would be sharing a lot of 'unclassified' information.
Thank you for the @Twitter welcome! We look forward to sharing great #unclassified content with you.

— CIA (@CIA) June 7, 2014
CIA's appearance in Twitter and its funny first tweet soon invited a surge of counter jokes and funny jibes from Twitterati. Have a look at some of them.
.@CIA lol! Out of all sociopathic, murderpus, war criminal, lying gov't orgs, you're top notch :) — Jason Sussberg (@friendofdurutti) June 7, 2014
@StanleyCohenLaw @Ben_Neato @CIA Nice try, that is the CIA's first tweet and they don't have permission to look at my hentai.

— YHVH (@SMT_YHVH) June 7, 2014
"@CIA: We can neither confirm nor deny that this is our first tweet." ppl responsible for creating terror plots & killing ppl make jokes ha — THE IRONIC SHEIK (@Hanzi83) June 7, 2014
. @CIA can you confirm or deny using drones to execute American citizens without due process?

— Ameir Al-Zoubi (@ameir) June 7, 2014
@CIA On the balance of probabilities, this is not the first tweet emanating from the CIA. — Sir Richard Crowden (@ScaredyCat44) June 7, 2014
Wait a sec, is this an episode of House of Cards? :) RT:"@CIA We can neither confirm nor deny that this is our first tweet"

— ZOMG Michael (@nowever) June 7, 2014
@CIA Shouldn't you be busy doing something? Like trading 5 terrorists for 1 terrorist. — Philip Hansen (@evil_avatar) June 7, 2014
"@CIA: We can neither confirm nor deny that this is our first tweet." >> wonder who is gonna get followed lol

— Agostina Laneri (@AgostinaFitness) June 7, 2014
@CIA well played intro. — Bradley James Whalen (@TheWhalen) June 7, 2014
Many people also responded with humour to the second tweet as well:
@CIA You realize nearly everyone just quit Twitter, right...?

— Jazz Shaw (@JazzShaw) June 7, 2014
.@CIA When are we going to be able to teleport? — Scott McLaughlin (@smclaughlin9) June 7, 2014
@CIA I cannot confirm or reject how clever that tweet was

— Dr Jacqueline Taubma (@drjackiet) June 7, 2014
@CIA @twitter Are you going to do a lot of answering tweets by saying "If I told you that I'd have to kill you?" lol — Gary Smith (@BostonRocks) June 7, 2014
@CIA this can't be the real CIA. you only follow 25 people.

— Jaye F. Powers (@JayePow) June 7, 2014