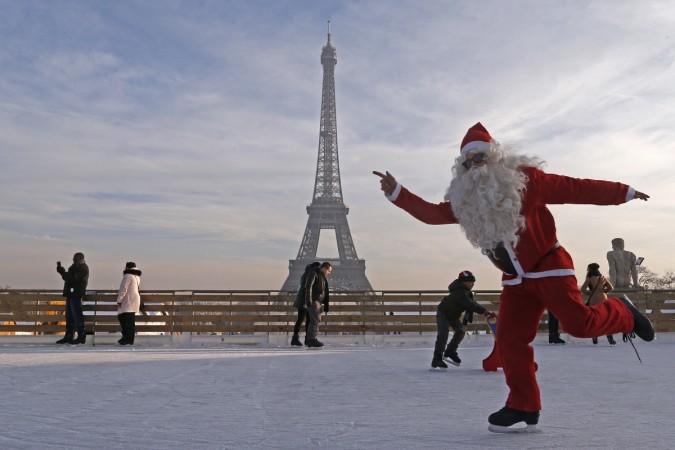 Father Christmas seems to have cut down on the cakes, pudding, ginger breads, eggnogs and pies, because if the Christmas greeting cards are anything to go by, he is getting slimmer by the day. A study of greeting cards has shown that Santa Claus has lost around 14kg in the last decade.
According to The Telegraph, the annual visitor from the North Pole has not just lost his pot belly, but his familiar rosy cheeks are a lot brighter and his outfit has deepened in tone to a darker shade of burgundy. More worrying matter, however, is that his appearance in greeting cards has come down by 5.6 %.
Clinton Cards' James Horne, after analysing two decades' worth of greeting cards confirmed that Santa has in fact lost a lot of weight over the years. "We estimated his size in hundreds of cards and identified depictions have notably slimmed him down in recent years. He's not as fat and round as he once was," Horne said.
He justified the changes in Santa's appearance as keeping with Britain's current taste. "Depictions of Santa have become slimmer possibly because we are more weight-conscious and into healthy eating," Horne said.
According to the study, while Robin's appearance on greeting cards has come down by 23.4 % in the last ten years, popularity of Snowman has increased by 17.1%.
However, Clinton cards' boss Tim Fairs has affirmed that Britain's love for greeting cards or long-standing traditions of the festival is not lost on them. "None of the old traditions are forgotten," he declared.
He further declared his fascination in seeing Britain maintaining traditions while keeping up with changing times: "It's fascinating to see how, despite the fact we live in such changing times, at Christmas none of the old traditions are forgotten. Everyone enjoys the sense of nostalgia of sending a Christmas card."
In fact, despite the changes, traditional and vintage designs such as Victorian street settings, holly bushes, bells and stars are still very popular.