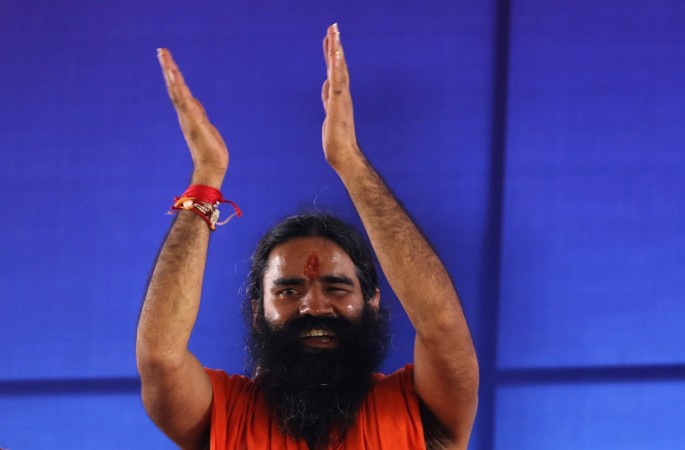 A Madhya Pradesh-based Christian group has raised objections to a TV advertisement of yoga guru Baba Ramdev's Patanjali Ayurved saying that certain portions of it hurt their religious sentiments. The group added that the animated monogram of the East India Company used in the commercial aired on Independence Day seems to promote negative emotions against Christians.
Jerry Paul, the national convener of Sarva Isai Mahasabha, told International Business Times, India, over the phone that the animation of the logo or monogram of the East India Company in the advertisement has hurt the religious sentiments of Christians across the country.
The animation around the 17-second mark of the 40-second advertisement shows three crosses coming out first and then the letters appearing, as a voice-over says in Hindi: "Foreign companies are very dangerous for our country."
Paul said: "If they really wanted to stir sentiments against the East India Company, they could have actually named it and used a static logo. Even we don't want multi-national companies to rob the country, as is said in the advertisement. However, the animation directly points at Christians, and that is what has hurt us."
He told IBTimes India: "We have written to Patanjanli Ayurved to remedy this. There are a lot of Christians across India who use ayurvedic products, and even products from Patanjali. In fact, Patanjali products are used by people of all religions in the country. We want to continue and don't want our sentiments hurt."
Paul said that they had protested against another act of Baba Ramdev earlier. "Some booklets had been distributed in Jhansi in Uttar Pradesh three years ago, and they contained some disparaging words by Ramdev against Christians. We had lodged a police complaint in this regard, but nothing came of it," he said.
Watch the video that is at the centre of all the controversy right here:
Patanjali Ayurved is in the business of making and selling a number of fast-moving consumer goods like Patanjali noodles, a toothpaste named Patanjali Dant Kanti, Patanjali honey, hair-care products like Patanjali Kesh Kanti, Patanjali wheat and a bunch of other products that claim to have natural ingredients.