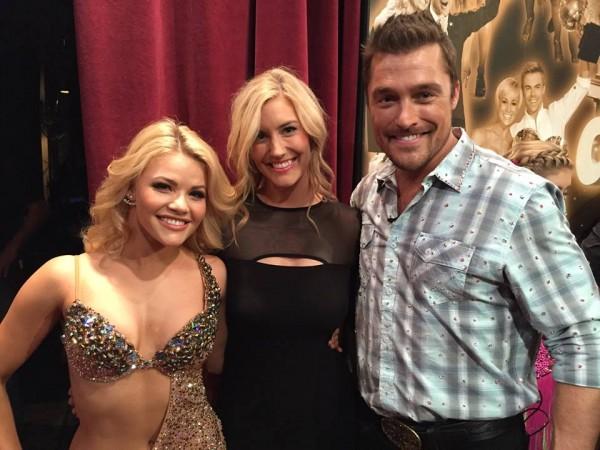 Mere days after season 19 of "The Bachelor" concluded, rumours of a friction in Chris Soules' relationship with Whitney Bischoff has started swirling around, with several reports even claiming that he has already cheated on his fiancée.
Bischoff and Soules got engaged in the season 19 finale of ABC's "The Bachelor," and there have been talks that theirs was purely a business arrangement. Bischoff, supposedly, was in it for fame and money, and realisation of this truth is said to have driven Soules into the arms of other women.
While Celeb Dirty Laundry claims that Soules slept with his ex fiancée Sheena Schreck, Life&Style believes the farmer from Arlington, Iowa cheated on Bischoff with her best friend. In all likelihood, both these claims are untrue, and the root cause of these rumours is Bischoff and Soules putting off planning their wedding.
Soules is now a contestant on "Dancing with the Stars" and his immediate focus seems to be the dancing reality show. A wedding, according to the couple, will have to wait, as they want to enjoy being engaged.
"We are just trying to enjoy our time sort of out of the spotlight and in public and being normal," Chris tells E! News regarding his relationship. "We're transitioning here into a life in LA and she's living here as well. So it's one step at a time and that's what we're focused on. Wedding plans will come naturally."
The 33-year-old was also questioned about Bischoff being insecure with him spending a lot of time with his "Dancing with the Stars" partner Witney Carson, and Soules replied that his fiancée trusts him completely.
"She's fine. She totally gets it," Chris told Access Hollywood. "Coming into it we had a conversation about it. First of all, I talked to her before I even made a decision to do this. We talked about it and it's an opportunity that we both thought was too good to pass up, and would be a lot of fun," he continued. "And I can teach her how to dance now, eventually, when I get good."