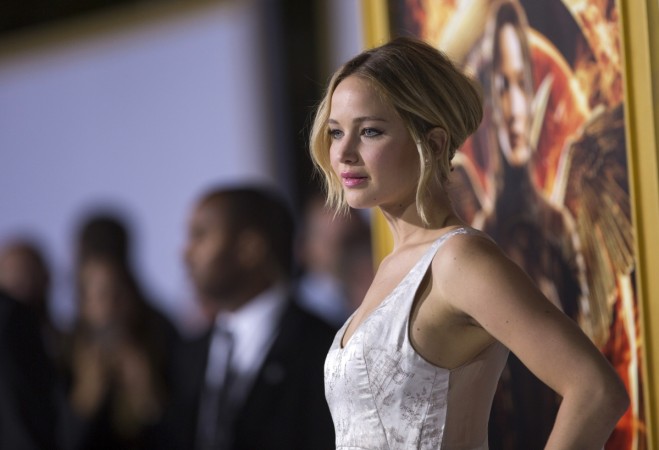 Jennifer Lawrence and Chris Martin reportedly called it quits last month after just four months of dating. But that hasn't stopped Martin from winning back the actress, and the only hurdle appears to be "The Hunger Games" star's new bodyguard, a new report claims.
Lawrence's bodyguard Justin Riblet caused quite a sensation when he was photographed escorting the actress to Los Angeles International Airport on 15 December. Twitter users were quick to fawn all over Riblet calling him "hot" and "babe", and Martin is supposedly not too happy with all the attention the bodyguard is getting. As per Celeb Dirty Laundry, Martin is jealous of Riblet, and is afraid that "there is more to their relationship than just security details."
The fact that Riblet is "well rounded and educated," has only increased Martin's insecurity, reported the media outlet, adding that shortly after Riblet's photograph went viral, several fans wondered why Lawrence would date Martin when she was with Riblet round the clock.
"He looks like a freaking model", one Twitter user wrote. "If I were Jennifer, that would be my next boyfriend" another fan wrote. "I want to be Jennifer for one day with JR by my side".
But who exactly is the new bodyguard? According to Riblet's LinkedIn profile, he is a graduate of Rutgers University and holds a degree in Criminal Justice. He graduated in 2007 and spent five years with the U.S. Army serving as a Special Forces weapons sergeant.
Meanwhile, there is no evidence to suggest Lawrence and Riblet have anything beyond a professional relationship. But if they are indeed dating, then Lawrence wouldn't be the first celebrity to have fallen for their bodyguard.
Supermodel Heidi Klum was romantically involved with her bodyguard Martin Kirsten for about 18 months before they called it quits. Other celebrities who reportedly fell for their bodyguards include Amy Winehouse, Britney Spears, Kate Gosselin, Scarlett Johansson and Kim Kardashian.