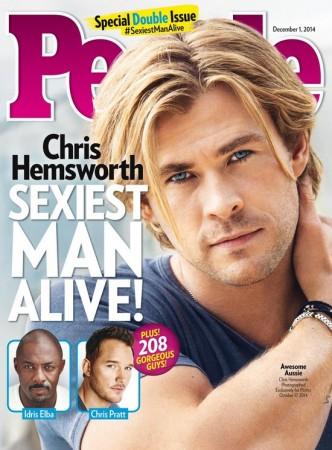 If those blonde locks, strong arms and an Australian accent could make for a superhero then they could definitely qualify to make the People Magazine's 2014 "Sexiest Man Alive." The hunky "Thor" actor Chris Hemsworth has been crowned the king of many hearts in Midgard (earth) and he thanked Matt Damon and his parents for that.
After teasing the "Sexiest Man Alive" segment for weeks, People magazine finally pulled the curtains on this year's winner on The Jimmy Kimmel show. Hemsworth said he was honored by the title.
"Thank you very much for the trophy. I'm most excited about the alive portion of that statement. I'm flattered. Thank you, Jimmy," Hemsworth said commenting on Kimmel's comment of the criteria required to be the "Sexiest Man Alive."
Talking about what he liked about being sexy and who inspired him, Hemsworth said:
"I like everything there is about being sexy, to pursing the lips the right way to squinting at the essential time. Thank you, Matt Damon, and all the other previous intelligent men. This is based on an IQ test, not just the physical appearance."
He also thanked his parents "for putting this together."
When Hemsworth first heard that he was named the 2014 "Sexiest Man Alive," he thought it funny. So did his model wife.
For the cover story of People Magazine's December issue, Hemsworth said:
"I think you've bought me a couple of weeks of bragging rights around the house. I can just say to her, 'Now remember, this is what the people think, so I don't need to do the dishes anymore, I don't need to change nappies. I'm above that. I've made it now.'"
Though Hemsworth acknowledged that his brothers would give him a hard time about the title but his equally hot actor sibling Liam Hemsworth was pretty cool about it.
"Liam is good. We've been throwing sexy looks back and forth all week. So he's been a real team player through this," Hemsworth told Kimmel on the show.
The social media is abuzz with news of Hemsworth's crowning and reactions are all good. Some even wondered why it took so long for the handsome actor to bag the coveted title.
"Love this choice, love Chris. It's about time! He's got the most gorgeous blue eyes, charming smile, and seems really down-to-earth and a loving family man. The previous ones have been very poor choices, but People has redeemed itself," a comment on E!Online read.
It had some of the men rolling their eyes though. Jason Bateman was pissed that he wasn't chosen as the Sexiest Man Alive. And this tweet said it all:
Chris Hemsworth was just named sexiest man alive. Okay if they're letting Norse Gods compete then what hope have the rest of us?

— Rohan (@mojorojo) November 19, 2014
Last year, Maroon 5 frontman Adam Levine was named the "Sexiest man Alive" and many seemed to be unhappy about the magazine's choice. Previous winners include George Clooney, Ben Affleck, Brad Pitt, Hugh Jackman and Ryan Reynolds among others.