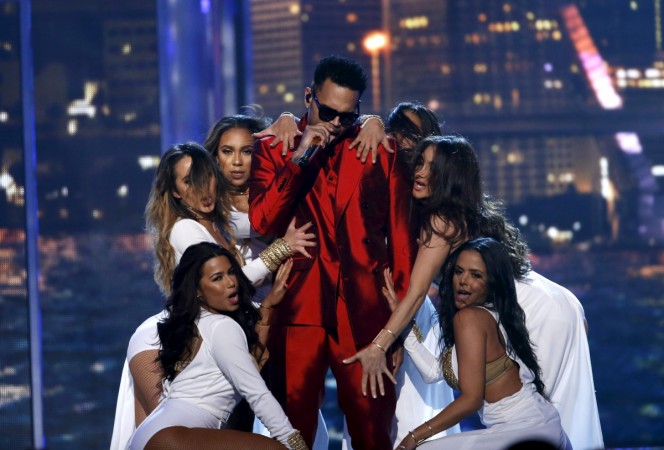 Chris Brown is celebrating his 27thbirthday on Thursday, May 5, and millions of fans all around the world have already started wishing him. However, the one person he does want to hear the voice of is reportedly his ex-girlfriend, Rihanna.
Breezy and Riri have been out of each other's lives for a while now, and the latter is even said to be dating Leonard DiCaprio. Although the duo had broken up some time back, they are said to have reunited at Coachella, reports Hollywood Life.
The news is said to have hurt the "Grass Aint Greener" singer, who thinks of losing Rihanna as a huge regret in his life. Despite hanging out with beautiful, scantily-clad women, it seems as if his heart really belongs to the "Work" singer. Reportedly, he is all about love right now and extremely excited about the prospect of Riri wishing him on his birthday.
"If Rihanna reached out to him or surprised him with something [on his birthday,] he would die," Hollywood Life quotes a source close to Breezy as saying.
Meanwhile, the rapper has received quite a few wishes from his friends and fans on social media. Here are some of the most touching ones:
Happy birthday brother @chrisbrown#AllLove through whatever.

— Kyrie Irving (@KyrieIrving) May 5, 2016
Happy 27th Birthday To My Whole Heart, I Love You So Much @chrisbrown ✊ pic.twitter.com/v7Mb45wzaS — #SavageSummer✨ (@keryannakierraa) May 5, 2016
Happy birthday to my fave!!!! @chrisbrown ☺️☺️❤️ pic.twitter.com/mtB5esz8vz

— Zar (@Z__shanice) May 5, 2016
Its my baby daddy birthday @chrisbrown I love you baby — May 23 #FayDay (@Faysofamous) May 5, 2016
HAPPY BIRTHDAY TO MY BABY @chrisbrown CANT BELIEVE UR 27YRS OLD I LOVE U BABY pic.twitter.com/o0IeHGnNHO

— brooke♒️ (@brooookieeeee) May 5, 2016
When @CENTRICTV play your favorite song "Yo" by @chrisbrown cause it's his birthday. ❤ #HappyBirthdayChris — ☄ ❣️ Baby D. ❣️ ☄ (@_iStayThugginn) May 5, 2016
happy birthday baby, we been at this for about nine years and many to go! i love you and will see you tonight!@chrisbrown #realestonmyteam

— lil pablo (@taeguapo_) May 5, 2016
Happy Birthday baby!!! You are the best in the world @chrisbrown — juliana (@jujubsl_) May 5, 2016