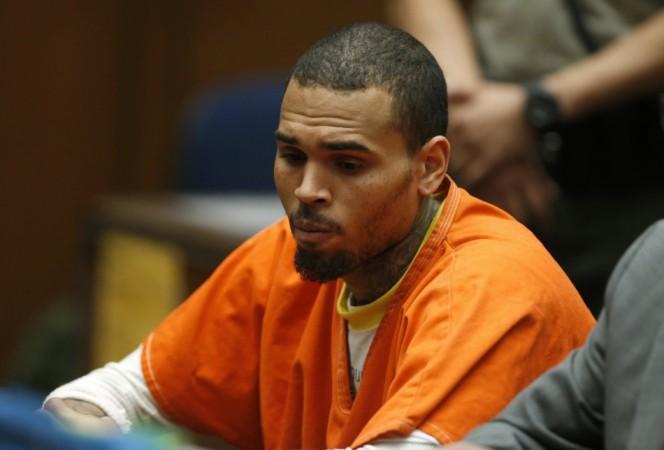 Chris Brown has to stay in jail for four more months after a Los Angeles judge sentenced him to one year imprisonment in connection with violation of probation in the Rihanna assault case at a hearing on Friday.
The 25-year-old R&B singer invited trouble by getting into a fight with a stranger in Washington, D.C in October 2013. The police sentenced him to one year jail term after he admitted to violating his probation on Friday.
However, Brown has only 131 days left, as he will get credit for 234 days, including 116 days in rehab and 59 days in jail, according to a report by TMZ. It also added that the singer could be sent home within a week, as L.A. County Sheriff's Dept reportedly releases inmates sentenced to one year after 240 days.
Violation of probation could be given upto four years imprisonment, but the judge was soft on Brown because he was recently diagnosed with bipolar II disorder by doctors at the rehab facility where he spent 90 days for anger management. The singer has also been ordered to attend therapy sessions with a therapist two times a week and undergo random testing for drug – three times a week. He will also have to complete 1,000 hours of community service after being released from the jail.
Brown has been dogged by controversies and trouble ever since he was arrested in 2009 over assault on his then girlfriend Rihanna. He was sentenced to five years of probation for the violence, but he breached it by getting into a brawl with a man last year, just months shy of completing it.
He was also arrested by L.A. County Sheriff in March after being kicked out of a Malibu rehab facility, where he had been staying for almost four months as ordered by a judge in connection with the Rihanna assault case. The arrest was reportedly on account of breaking "internal rules" of the facility and not related to violence or drugs.
It may be recalled that Brown was earlier thrown out of a different rehab after he threw a rock at his mother's car for allegedly talking bad things about his ex-girlfriend Rihanna.
The troubled singer is yet to get out of legal issues with his trial for Washington, D.C assault scheduled to start in June. Its hearing was supposed to take place in April, but was pushed to June.
(Ed:AJ)