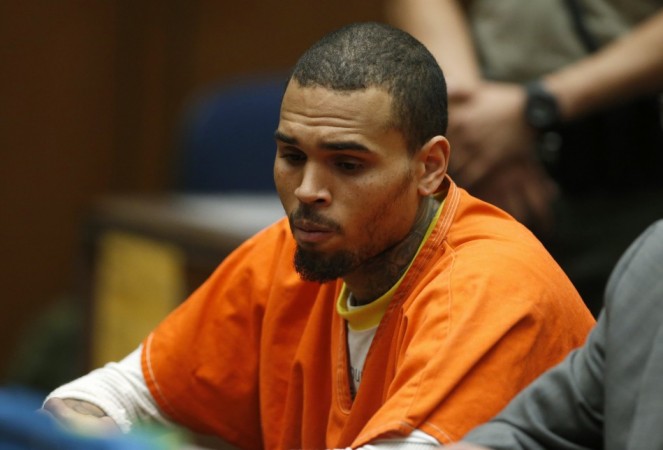 It seems Chris Brown is not in the mood to meet ex-girlfriend Rihanna face to face and may even skip the upcoming BET Awards, just to make sure that he does not bump into her.
The 25-year-old R&B singer, who is out of prison after serving 108 days of a 131-day sentence for violating probation in the Rihanna assault case, may not attend the 2014 BET Awards - despite being nominated in three categories - just to avoid meeting his ex, a source told Hollywood Life.
"It may not be the best place for him to be because Rihanna might be there and it's probably too soon for him to be in the same room as her," Hollywood Life quoted a source connected to Brown. "He's still working on his feelings and emotions and just doesn't need anyone to say anything smart or even look at him the wrong way."
Brown is understood to be staying close to home, since his release from jail on 2 June.
"It's just that he doesn't want to put himself in situations that have the potential to get him caught up in some trouble," the source told the website. "He's still working on his anger management issues and taking his medication, and the best thing to do is to be away from people."
Interestingly, ex-couple Brown and Rihanna have both been nominated at the 2014 BET Awards, set to be held at the Nokia Theatre LA Live in Los Angeles, California on 29 June.
Brown has been nominated for Best Male R&B/Pop Artist, Video of the Year and Video Director of the Year categories, while Rihanna has got the nomination for Best Female R&B/Pop Artist.
And since both have been nominated, there are high chances of the ex-couple meeting each other, unless one of them decides to skip the event.
Rihanna had hit the headlines earlier this week, after attending the recent Council Of Fashion Designers of America Awards (CFDA) in a sheer dress, revealing her assets.
The singer left very little to the imagination in Adam Selman's creation, revealing too much, which was dubbed "not appropriate" by many. Even the designer told Style.com that the dress, which was just "fishnet and crystals", was meant to be scandalous.
The 26-year-old had turned heads at the MET Gala after party last month, by appearing in a backless gown that showed lots of skin. She was also banned from Instagram a couple of months ago for posting topless pictures of herself on the photo sharing site.
It is understood that Rihanna is mending another heartbreak after splitting from Drake, while Brown is said to be going steady with Karrueche Tran.