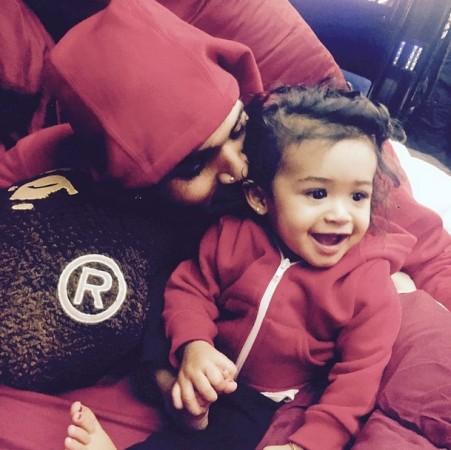 Chris Brown is very upset — he hasn't been given credit – that his name's missing on his daughter's birth certificate. The singer seems to be enjoying his life as a new father, posting pictures with daughter Royalty, but maybe this happiness won't last long. The "Turn Up The Music" singer is faced by a new threat – having no rights to Royalty.
Chris has been very clear about getting the custody of his daughter, but doesn't seem like it's going to be easy. According to a TMZ report, it's Nia Guzman's boyfriend, Brazil Riesling aka King Ba, and not Chris Brown, whose name is listed out as Royalty's father. Past DNA reports confirm that Brown is Royalty's biological father, but with his name missing on the certificate, he will have to fight a legal battle to get his name on it.
An LA-based family attorney, Mychal Wilson, apparently told HollywoodLife that if Chris Brown's name is not on the birth certificate, he still has legal rights to the child. "Arguably, because Chris Brown is not listed on the birth certificate, he has no rights to custody. However, the DNA tests show that Chris Brown is the biological father so he could go to court and fight to get his name on the birth certificate," the attorney said.
The "Loyal" singer has been trying to make things work from every aspect — from building relationship with daughter Royalty, to trying to get Nia to move to LA, to sorting things out with King Ba. But his efforts have been put off by Riesling, who is teasing Brown by posting pictures of himself with the baby and calling himself the dad.
Well, doesn't look like there is backing off as the "Forever" singer is all set to battle it out legally. He will now have his lawyer negotiate with Nia and Ba to change the name on the certificate and to list his name as the biological father.