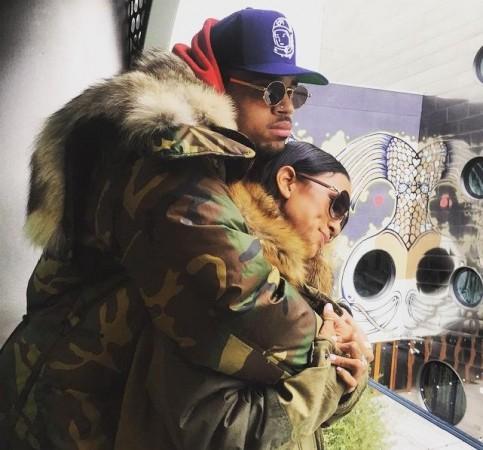 Chris Brown was not "loyal" and this is why his relationship with Karrueche Tran did not last. The model revealed this in her latest Instagram post. But, the "Don't Wake Me Up" singer responded by saying he was just fighting for the woman he loves.
It looks like Brown and Tran have now taken their arguments to social media. Recently, the two of them had a major show down in public after Chris tried to reunite with the model at the Playhouse Nightclub in Los Angeles on 4 June.
Not only did he force himself into her SUV, but he even showed up at her doorstep, banging the door and yelling, forcing her neighbours to inform the police.
And now, the Breezy boy, in an interview with Ryan Seacrest, said that he still loves her. But at the same time, referring to her interview with Access Hollywood, he said that Tran should be focusing on her career and not him.
"Honestly, it's so fucking pointless to keep doing interviews about me. Talk about your career...If there is no more relationship then u shouldn't be doing fucking interviews with people," he said.
Karrueche responded to this comment with a long Instagram post, pointing that their relationship ended because of "lack of his loyalty" and that it's time Chris "mans up".
"First off @chrisbrownofficial you just did an interview w Ryan Seacrest in which you spoke about me. My interview w Access Hollywood was not entirely about you.. they asked a question and as a mature adult I answered," she wrote.
She also mentioned that she could have easily bashed him, but she chose not to do so. "I'm not gonna shy away from something that I lived through. I'm talking about my life and experiences. I'm not speaking on you or bashing you (like I easily could). Don't be mad at me because our relationship is over due to your lack of loyalty. You know what's weak?? You forcing yourself into my car.. my broken window.. blowing up my phone.. trying to shower me w gifts.. Man the fuck up and change the bs in your life like I've told you several times," she continued.
It looks like the model got a bit touchy as Chris pointed fingers at her career. "Since you want to hear about my career - check out @vanityseries every Thursday on StyleHaul.com.. Emmy winning @thebaytheseries this Sept and 3 Headed Shark Attack on SyFy next month. Best of luck to you and beautiful Royalty," she concluded.
And just hours later, the "Turn Up The Music" singer responded to his ex girlfriend's post in a very apologetic tone. Chris left an emotional Instagram message saying all that he was trying to do was fight for the womn he loved.
"I'm eternally thankful for you being in a part of my life. I've learned so much from you. I wish u nothing but happiness and the best. @karrueche all I was doing was trying to fight for the woman I love. ThanxI learned a lot," wrote the 26-year-old singer.
This relationship just took an interesting turn. Now, we have to wait and watch if it ends here or whether Chris Brown and Karrueche Tran will continue going back-and-forth in this Instagram feud.