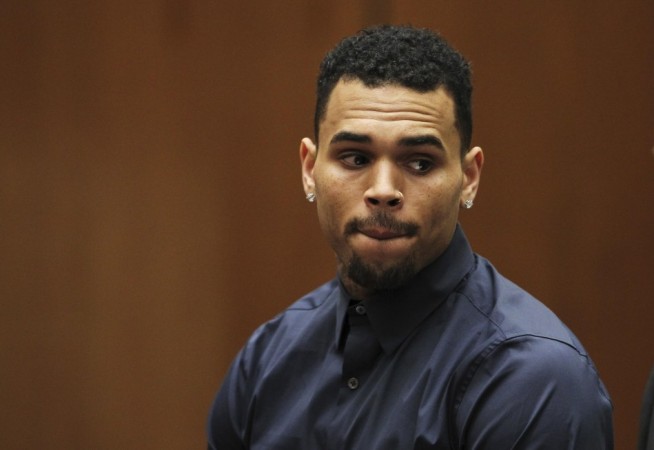 Chris Brown is in jail for a month-long sentence but it looks like the singer is already losing it as reports have emerged, indicating that Brown is not eating or sleeping properly.
Reportedly, he has been drinking only water and orange juice given to him. Brown is said to be dissatisfied with the food, and an insider revealed that Brown would not "even let his dogs eat" eat the food that is served in jail.
The singer, who was arrested and put behind bars for violating his probation terms by getting himself kicked out of a Malibu rehabilitation center, has also been showing signs of depression. He is barely maintaining sanity, a source told HollywoodLife.
"He's not eating, not sleeping, and he's out of his mind," the insider said. "He talks to himself. He's tired and frustrated and feels like he's trapped like a small hamster in a cage."
Although Brown was in rehab for about four months, the source added that it was like vacation when compared to jail.
"Chris is suffering. He's going crazy. He has been stripped of everything. He doesn't even have underwear on. He's got nothing and no one," the source added.
Brown will be spending 23 hours a day in solitary confinement, reportedly to protect him from other inmates, until his case goes to trial on 23 April. His cell has a basic bed frame, a sink and a toilet. To keep himself occupied, Brown can either work out or read.
Meanwhile, TMZ reported that Brown's lawyer is trying his best to get his client out of jail as soon as possible.
Brown has an assault trial next month in Washington, DC. And Mark Geragos, Brown's lawyer, has reportedly contacted the lawyer of the man who filed the assault case in a bid to settle it.
Geragos is looking for a civil settlement, and if everything goes as planned, Brown would not have to languish in jail for long.
Here's how TMZ visualises the events unfolding - the victim gets paid for dropping the criminal assault charges, and the judge in the Rihanna assault case will let Brown out of jail latest by next week.