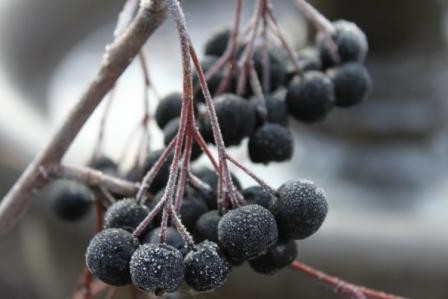 Berries may help fight pancreatic cancer, new research shows.
A study published in the Journal of Clinical Pathology found that an extract of chokeberry, when used along with a chemotherapy drug gemcitabine was highly effective in killing pancreatic cancer cells.
Chokeberry or Aronia melanocarpa is a wild berry native to North America. Chokeberries are rich in vitamins, minerals, fibre and antioxidants. Previous studies have shown that chokeberry was useful in treating a wide range of medical conditions, including metabolic syndrome, cancer, neurological diseases and diabetes.
During the experiments conducted in lab, researchers monitored the growth of pancreatic cells AsPC-1 that were treated with a combination of gemcitabine and chokeberry extract or each of them separately.
The combination of the conventional chemotherapy drug and berry extract caused cell death within 48 hours of starting the treatment.
"These are very exciting results. The low doses of the extract greatly boosted the effectiveness of gemcitabine, when the two were combined," researcher Bashir Lwaleed, at the University of Southampton, said in a news release.
"In addition, we found that lower doses of the conventional drug were needed, suggesting either that the compounds work together synergistically, or that the extract exerts a "supra-additive" effect. This could change the way we deal with hard to treat cancers in the future. "
Polyphenols in berries destroyed harmful cells and prevented the formation of new blood vessels, the authors said. Similarly, chokeberry extract has been found promising for fighting brain cancer.
"The promising results seen are encouraging and suggest that these polyphenols have great therapeutic potential not only for brain tumours but pancreatic cancer as well," Dr Harcharan Rooprai, from the King's College Hospital, said.
Pancreatic cancer starts in the tissues of the fish-shaped organ in the abdomen. A World Cancer Research Fund International report has ranked pancreatic cancer as the 13th most common cancer found across the world and the seventh cause of death from cancer. Nearly 3, 38,000 new cases of the deadly disease have been reported in 2012.
Previous studies have shown that triptolide, an active component found in the Chinese herb thunder god vine (tirpterygium wilforii) was highly effective in killing pancreatic cancer cells. Drinking green tea is another effective method to protect against the deadly cancer.
A study reported in June found that an active component in green tea known as EGCG inhibited the activity of LDHA, an enzyme that plays a major role in pancreatic cancer.