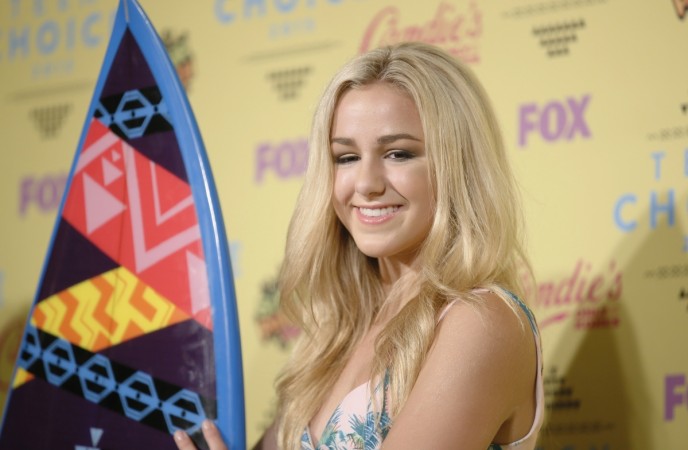 It was Maddie Ziegler's time to shine at the People's Choice Awards 2016. The former "Dance Moms" contestant won the Choice Dancer award, beating several other luminaries and her former co-star, Chloe Lukasiak. The 13-year-old dancer was ecstatic when she received her famed surfboard and although she didn't make a speech, her Instagram posts evidenced her happiness. However, is Chloe happy for the dancer she once shared the stage with?
Chloe, who left the Lifetime reality TV show in Season 4, hinted that she is far from upset at Maddie's win and even congratulated the "So You Think You Can Dance" judge.
In what can be described as a sentimental and touching post, Chloe wrote: "Just wanted to say thank you so much to all of my supporters! You guys are the absolute best. Your love and support means more than any of you could ever know and congratulations to all of the winners at the @teenchoicefox! I was very proud to win a surfboard and I'm very happy to pass it along now to the talented @maddieziegler Go girl!"
Chloe and Maddie were often pitted against each other on "Dance Moms" despite the two being the best of friends. Earlier, the "Cheap Thrills" dancer said that she hasn't spoken to Chloe ever since the Lukasiaks left the show.
During a "Dance Moms" special episode, Maddie added, "We haven't really talked to each other and things have changed between us...It's really sad because I obviously miss her."
Although Chloe hasn't spoken about her friendship with Maddie ever since she left the show, she did state that she's been happy ever since she stopped being in an intense competitive space. "After I left Dance Moms, I went to a new studio. It was a little different. Before the show, competitions were always super fun, but after the show it was just really different. It just wasn't the same," she told Inside Dance.
Chloe, who won the Choice Dancer award in 2015 has found support from many of her fans on Twitter. Several of them continued to be her loyal fans even though she lost Maddie. Chloe, who recently broke up with her boyfriend of 10 months, Ricky Garcia, told Life & Style that she's got a number of projects lined up for the next few months.
The 15-year-old dancer is currently part of Lifetime's "Center Stage: On Pointe" and recently wrapped up filming for "Cowgirl's Story" with Bailee Madison.