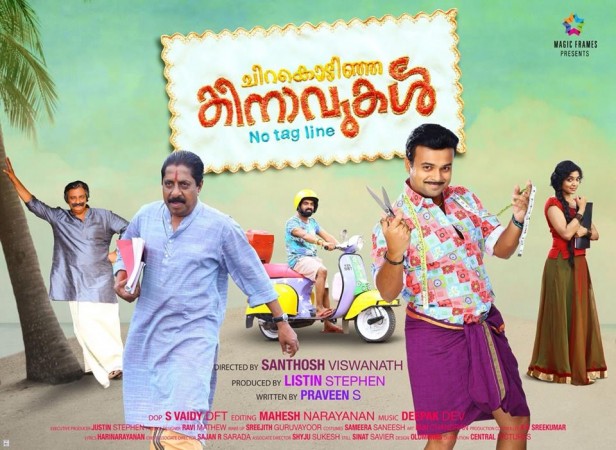 The much-awaited Kunchacko Boban-Rima Kallingal movie "Chirakodinja Kinavukal" was released on 1 May. However, as per the reports, the film has failed to reach the expectations.
Directed by Santhosh Vishwanathan, "Chirakodinja Kinavukal" is inspired from the novel written by Sreenivasan's character Ambujakshan in the 1996 Mammootty starrer "Azhakiya Ravanan". Here in the movie, Ambujakshan (Sreenivasan) plans to make a movie about the love story of a tailor (Kunchacko Boban) and Sumathi (Rima Kallingal). But her father decides to marry off Nalini to an NRI (also played by Kunchacko Boban) and what follows forms the crux of the story.
Here are the reviews of "Chirakodinja Kinavukal" by various critics:
Sreenivasan plays tailor Ambujakshan to near perfection, but doubtlessly fails to bring out the old charm of the character. Kunchacko Boban's portrayal of the tailor is fine, but the actor fails to impress as the NRI. Rima Kallingal fits in to the role of Sumathy, but has nothing much to do in the film. Joy Mathew, who plays Sumathi's father, Manoj K Jayan, Mamukoya, Lalu Alex, Jacob Gregory, Srinda Ashab, Kalaranjini etc are good at their respective roles.
Onlookersmedia
The blend of romance and humour is what they had intended but it not happened to the level as they expected it to be. It also gives us the memories of Azhakiya Ravanan here and there and that also affected this film as this one not raised up to the standard of that one from which it originated.
Chirakodinja Kinavukal is only an average affair which can only please those who can go to a film with no expectation and specially those who had completely forgotten Azhakiya Ravanan.
From self credit onwards, director Santhosh Viswanath and writer Praveen S starts the spoof making. The initial segments make fun of the approach of film makers towards a movie. Then after, it makes fun of the sensibilities and unreal approach towards the content. And after making enough fun about the lack of life and craft, it gently proposes its suggestion to enhance the quality. The scope of Ambujakshan's Chirakodinja Kinavukal has been completely utilized by the writer.
Everything that we make fun of in the social media groups has been included in the content. As I already said some portions in the movie looks a bit serious (or lacks humor) and as the basic story is stupid, it is a bit difficult to sync with that dryness. Cinematography was good. I liked the visual effects of the movie. Music and background score was also good from Deepak Dev (one movie where he can copy and the one who accuses him of copying will sound like an idiot – nature of the movie). Edits were also nice.