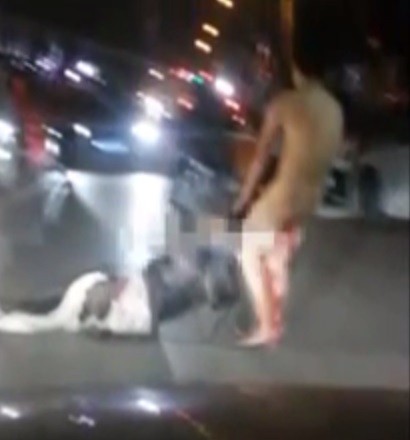 In a bid to ensure that her husband receives the maximum punishment for cheating on her, a Chinese woman has irrevocably altered her spouse's anatomy by chopping off his penis twice.
After using his wife's cell phone to send a highly sexual mail to his 21-year-old lover, Zhang Hung, 32-year-old Fan Lung forgot to log off from his account, reports Mirror. His wife Feng, devastated on seeing the message, decided to punish him after he fell asleep.
She took a pair of scissors and chopped off her husband's penis.
Doctors were able to re-attach Lung's penis via surgery.
However, his wife had decided to take revenge. She managed to sneak up to Lung's hospital room and chopped his genitals a second time.
To ensure that it cannot be attached to Lung's body this time, she threw it out of the window.
Pictures circulating on the internet show the couple fighting outside the hospital.
Hospital spokesperson said that the staff was informed that a bleeding, naked man was beating up a woman outside the building.
The staff members separated the duo and took the man, who is a father-of-five, for an emergency surgery. Even though Lung had lost a lot of blood, it is understood that he is physically stable. However, Lung is "extremely emotionally distraught".
His wife has been arrested for causing bodily harm. Even after public humiliation, Lung seems to have gained in this situation as his lover, who arrived at the hospital later, expressed her wish to get married to him soon. "It doesn't matter that he's lost his fertility, he has five children already," said Hung.
Although the doctors and policemen joined together to locate it, the dismembered penis was not found. It is assumed that a stray dog or cat must have ran away with it.
The video below shows a gory picture of Lung with his penis cut, and another when he is in the hospital: