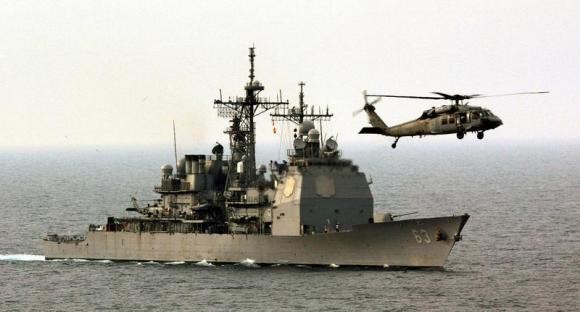 A Chinese daily on Monday has accused the US of feigning innocence, regarding a near collision at sea. The potentially risky stand-off was the closest military confrontation the US and Chinese had in the last five years.
China's English Daily Global Times carried a report citing an unnamed Chinese Military expert who criticised the US government for 'playing innocent' after it's guided missile cruiser got too close to the Chinese navy drill in the South China Sea and barely missed a collision.
USS Cowpens (CG 63), which is a Ticonderoga-class guided-missile cruiser, had a near collision with a Chinese warship on December 5, 2013. The US soon raised its objection with the Chinese government both at diplomatic and military levels. The Chinese and US forces have often been on loggerheads over boundary issues at the South China sea.
The Chinese daily quoted the unnamed military expert blaming the US as saying, "Bad guys always claim innocence first." The official said the American missile cruiser had entered 45 km of the inner defence layer of the Chinese fleet.
"The USS Cowpens was tailing and harassing the Liaoning formation," the official added.
The incident was the closest direct confrontation between the US and Chinese on the South China sea since 2009. On March 8 that year, five Chinese vessels blocked and surrounded a US surveillance ship - the Impeccable, which according to the Chinese was trying to conduct activities in China's exclusive economic zone without permission.
Even as the US and other countries consider most of the South China Sea to be international waters, the Chinese government has laid claim on an economic exclusion zone extending 200 nautical miles, or 230 miles, from its coastlines. China often reports that the US indulges in spying activities in these areas.