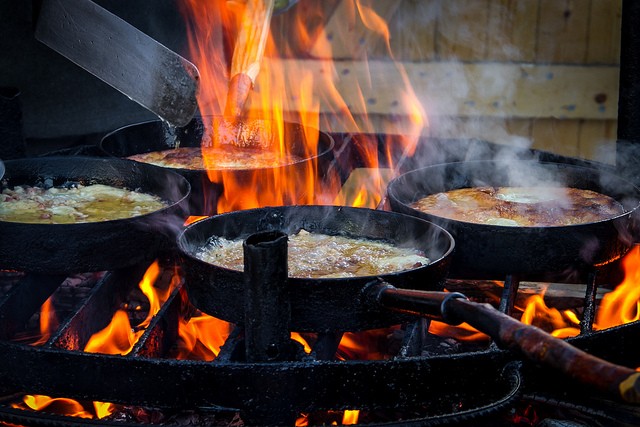 A 20-year-old Chinese student suffered severe burn injuries after a careless waitress poured inflammable fluid on a burning flame at a barbecue restaurant.
The video of the incident, recorded on CCTV camera of the restaurant, has left many wondering about the safety within such arrangements in restaurants.
The horrifying incident took place on 3 September, when the woman - identified as Qian - had apparently gone to the restaurant with a friend from college.
Qian is a resident of Heyang, a county of Weinan, Shaanxi in northwest China, reports Daily Mail.
In the CCTV footage, posted on chinasmack.com, the two friends can be seen eating at their table when a waitress is seen approaching them with a can of liquid. She was called to the table by the friends to increase the flame as they thought the fire was too low for the food to get cooked.
The report states that waitress Shan, 18, had been employed at the restaurant for just over a month. According to her statement, she was usually allowed to refill the BBQ plates only under the supervision of a senior employer but on the day of the incident, all other waiters had their off, and it was her first time refilling the plates all by herself.
The unexpected explosion was apparently caused by the excess fluid poured by the waitress on the BBQ flame, which was still burning. The flames rose because as soon as the fire lit up, the panicky waitress threw the full can of the fluid on the table as she ran away.
The young student can be seen engulfed in flames, rolling on the floor and kicking hysterically for a few seconds. Eventually her friend can be seen coming back, trying to put out the flames with a piece of cloth.
While the waitress only had minor burns on her right hand, the friend of the victim suffered second degree burns to his head and neck but Qian suffered severe burns. The trio was immediately rushed to the Yiwu Central Hospital.
"I never thought this kind of thing would happen," the report quoted the waitress as saying. A police investigation into the matter is on.
Check the video below (graphic content):