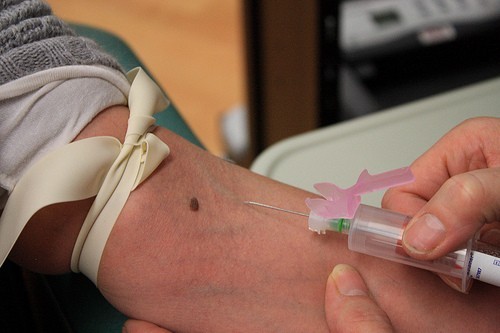 A team of Chinese scientists has identified a new biological marker that can help diagnose lung cancer more accurately and easily.
Dr Jie He, director of the Laboratory of Thoracic Surgery at Peking Union Medical College and Chinese Academy of Medical Sciences in Beijing, and colleagues found that levels of a protein known as isocitrate dehydrogenase (IDH1) were considerably high in people diagnosed with lung cancer.
"This study is the first to report identification of IDH1 as a novel biomarker for the diagnosis of non-small cell lung cancers (NSCLC) using a large number of clinical samples," Dr He, said in a news release issued by the American Association for Cancer Research.
The ground-breaking invention is expected to help in the development of a new blood test to detect lung cancer early. "Lung cancer has a high mortality rate, mostly because of late diagnosis. With an increase in aging population, we are likely to see an increase in lung cancer incidence and a need for better biomarkers for early diagnosis. We have identified IDH1 as an effective plasma biomarker with high sensitivity and specificity in the diagnosis of NSCLC, especially lung adenocarcinoma," he added.
Researchers said that the new biomarker helps detect stage 1 lung cancer easily and accurately as the protein is more sensitive (86 percent higher) than the currently available biomarkers used to diagnose lung cancer - CEA, Cyfra21-1 and CA125. The IDH1 biomarker showed 76 percent sensitivity and 77 percent specificity in lung cancer patients.
Nearly 950 people with non-small cell lung cancers (NSCLC) and 479 people without the disease participated in the study. For the experiment, scientists collected blood samples from participants and tested them. Using various tests like ELISA and ECL, they measured and recorded the levels of IDH1, CEA, Cyfra21-1, and CA125 and divided the samples into two sets - a training set and a test to check the effectiveness of IDH1. Proving their theory, researchers found that the test set was as effective as the training set to detect lung cancer.
Levels of the protein were relatively high in patients with denocarcinoma (2.7 fold) and squamous cell carcinoma (2.2 fold) than the healthy participants. In addition to that, combining all the four markers yielded better results in classifying lung cancer.
The findings offer some hope as lung cancer is one of the leading causes of death across the globe. According to the World Health Organization (WHO), cancer claimed nearly 7.6 million lives in 2008, and lung cancer contributed to 1.37 million deaths. According to a 2011 WHO data, a death rate of 142.1 per 100,000 persons was reported.