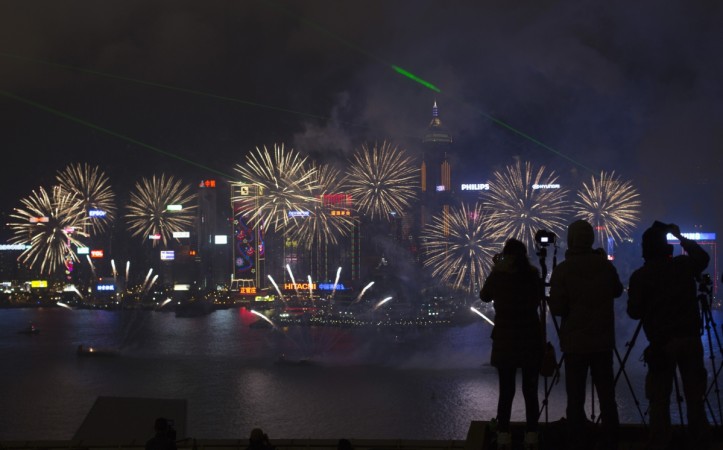 Monday, 8 February, 2016, marks the New Year in the Chinese lunar calendar. As with any New Year celebration, there is a lot to see, eat, shop, explore and learn about the year of the monkey.
Chinese cities like Shanghai, Beijing and autonomous region Hong Kong are draped in hues of red and gold, indicating wealth and prosperity. This celebratory fervour resounds in their elaborate plans for a dazzling firework show, which traditionally takes place to keep evil spirits at bay. If you are in China during the New Year 2016, here's where you can see the fireworks.
Hong Kong, the island city, is famous for its colourful fireworks display. On Tuesday, 9 February, head over to the Victoria Harbour and feast your eyes on a kaleidoscope of colours that will put you in a festive mood. There is no admission fee, but if you want to stand at a vantage point, then stand along the Tsim Sha Tsui waterfront, West Kowloon Waterfront Promenade, Central and Western District Promenade and Golden Bauhinia Square in Wan Chai.
Hong Kong also has a 3-D light show between 10 February and 29 February. The audio-visual experience will be particularly enthralling with traditional festive themes on display. The light show will take place at Open Piazza, Hong Kong Cultural Centre, Tsim Sha Tsui, Kowloon.
The city's most anticipated night parade themed on "Playground of the World; Party of the Year" will include stilt walkers, drummers, traditional lion and dragon dances. This will take place at Hong Kong Cultural Centre Piazza in Tsim Sha Tsui and proceed along Canton Road, Nathan Road, Salisbury Road, and it will end at Sheraton Hong Kong Hotel and Towers.