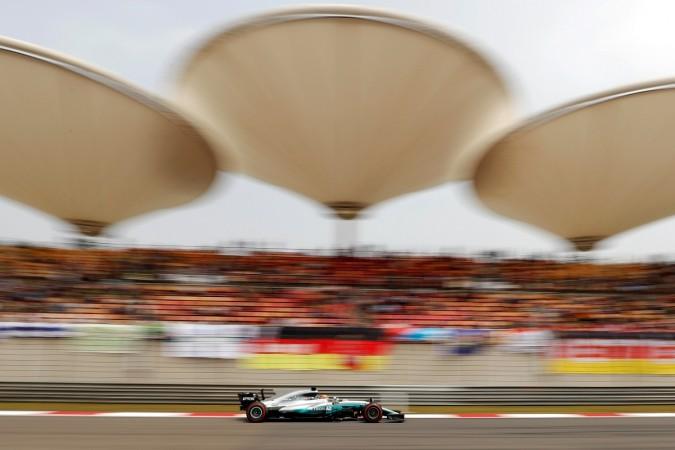 Fortunately, the weather Gods decided right in time to let at least the Chinese grand prix qualifying take place smooth and not give the drivers and the plethora of F1 fans at the Shanghai International Circuit.
Saturday remained perfect for the likes of Lewis Hamilton, Sebastian Vettel, Kimi Raikkonen and Valtteri Bottas.
The big four consistently hogged the top four positions over the three qualifying rounds and flags of Great Britain showed up from the stands after Hamilton bagged his 75th pole position from a total of 150 Grand Prix races in his career.
Michael Schumacher's Shanghai lap record of 1:32.238, set in 2004, was absolutely smashed by Hamilton, who wrote record books with the fastest lap ever in Shanghai -- recording a time of 1:31.678 in Q3 and taking the pole position.
"We knew it would be close. We knew we'd need a perfect lap. Very, very happy and super grateful to the team. It's more exciting than ever fighting these guys. It's amazing.

"It has been an interesting weekend so far. Today was a real challenge we had to compile a lot of yesterday's testing into this morning and hope we hit the nail on the head with the balance of the car.

"Ferrari looked so fast. I managed to chip away, session to session, the last lap was my best which is always the plan."

- Lewis Hamilton after the race.
Top 4 pole positions ahead of Chinese Grand Prix 2017 race:
| | | | |
| --- | --- | --- | --- |
| Pole position | Driver | Team | Q3 Lap Time |
| 1 | Lewis Hamilton | Mercedes | 1:31.678 |
| 2 | Sebastian Vettel | Ferrari | 1:31:864 |
| 3 | Valtteri Bottas | Mercedes | 1:31:865 |
| 4 | Kimi Raikkonen | Ferrari | 1:32:140 |
Max Verstappen makes shock exit in Q1
An unfortunate engine problem forced 19-year-old Red Bull driver Max Verstappen of making it in the top 15 after the first qualifying. Palpably, the Spanish Grand Prix 2016 champion remained infuriated following the race.
He tried his best to record a time but his late fight back could only give Verstappen the 17th quickest time in the race.
Onlookers have mentioned that following the race, he kept his helmet on and visor down and didn't want to speak to anyone. His body language clearly showed he was disguisted.
Exits made after Q2:
11) Sainz 12) Magnussen 13) Alonso 14) Ericsson 15) Giovinazzi
Exits made after Q1:
16) Stoffel Vandoorne 17) Romain Grosjean 18) Jolyon Palmer 19) Max Verstappen 20) Esteban Ocon
CRASHES!
It was a sad ending for Sauber's Italian driver Antonio Giovinazzi as his car spun on the final corner of the race and clattered into a wall, thus forcing the car to go through a major wreakage.
Fortunately, the driver remained unhurt.
Haas' Romain Grosjean, meanwhile, was plain and simple lucky as he prevented a crash at the exit of the final corner after his car spun violently but it just missed the barriers. Grosjean's car just picked a puncture.
No terminal damage was caused.