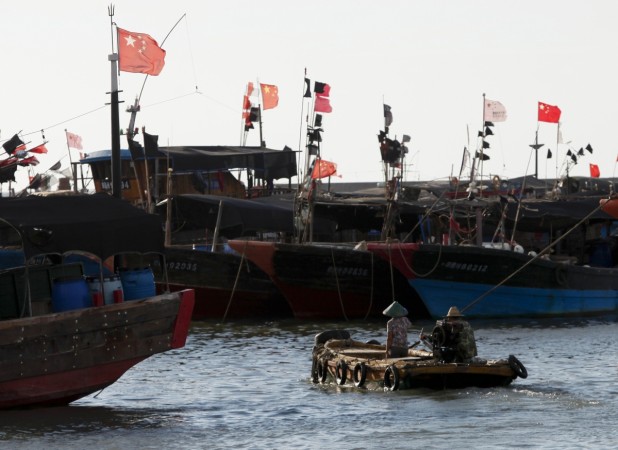 Chinese military would train fishermen in the Hainan island to create fishing militia that would sail into the disputed South China Sea and collect information on activities of foreign vessels in the disputed waters, Reuters reported. The Chinese government is expected to pay the fishermen for participating in the training programme.
The fishermen would be trained in search and rescue operations, "safeguarding Chinese sovereignty" and contending with disasters at sea, an advisor to the Hainan provincial government who focuses on the South China Sea said. The training is expected to be held between May and August.
"The maritime militia is expanding because of the country's need for it, and because of the desire of the fishermen to engage in national service, protecting our country's interests," the advisor said on condition of anonymity.
The city-level branches of the People's Armed Forces Department have been handed the responsibility to train the fishermen, he said.
Besides, the government has given Global Positioning Satellite equipment to at least 50,000 vessels so the "fishing militia" could alert the Chinese Coast Guard when encountered with foreign ships, Reuters quoted industry executives as saying. The fishermen have also been asked to use vessels of steel instead of hulls made of wood.
A number of Hainan fishermen and diplomats said some vessels have small arms.
Chinese fishermen have reportedly started exploring the waters in the disputed sea due to resource scarcity along the shores of China, which claims sovereignty rights in the entire South China Sea. The dispute in the sea arises because some other countries — Brunei, Malaysia, the Philippines, Taiwan and Vietnam — have also been staking claim to parts of it.
Beijing recently stepped up activities in the disputed waters. It landed a military aircraft on one of the man-made islands, Fiery Cross Reef Island, for the first time in April. Later, reports suggested China was preparing to build maritime nuclear-power platforms capable of "sailing" to remote areas and providing stable power supply in the South China Sea.