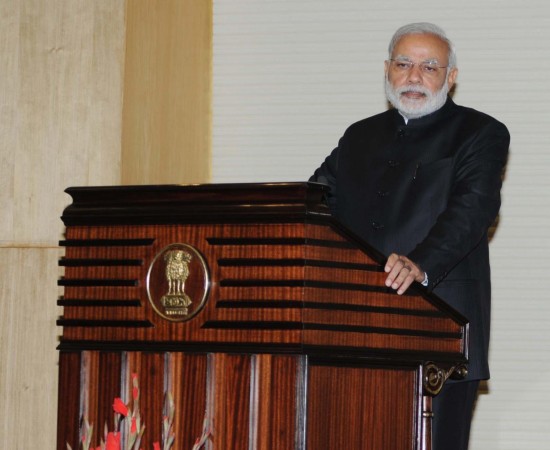 Ahead of Prime Minister Narendra Modi's visit to China in May, a state-run daily has carried an article asking India to adopt a "proactive" approach to settle border dispute between the two countries, especially, with regard to Arunachal Pradesh.
In the article, strategic affairs expert and associate research fellow with the China Institute of International Studies, Lan Jianxue has said that India has not reciprocated till date China's "sincere" efforts to reach an agreement that involves both sides to make compromises.
"...to this day, the Indian government has not given us a reply or any signal of goodwill for adjustment over this issue. In the light of this, the ball is in India's court to adopt a more proactive approach," PTI said, quoting from the article.
Jianxue has proposed that both China and India must work together with "flexibility and innovation" in the future to resolve their border dispute.
"Therefore, we have brought forward the idea of working hard together and moving toward the same direction, because we feel that India has not kept up the pace with China. We hope that the two parties can reach a consensus based on not only mutual understanding and accommodation, but also a strong will of showing flexibility as well as innovation in the near future," he has said.
Jianxue has spoken of a consensus reached after External Affairs Minister Sushma Swaraj's recent visit to China. He has said that he now expects Modi to take the issue forward, but at the same time has expressed doubts. "...it remains to be seen what dedication Modi will put into a practical settlement for the bitter territorial dispute," he has said.
Bringing forth the dispute over Arunachal Pradesh, which China calls Southern Tibet, Jianxue has said an "out-of-box solution" can permanently end it. He has also raised concern over the "illegal McMahon Line," which he said is at the centre of the boundary dispute.
"This is a line that China has never accepted. If India won't make concessions or adjustments over the line, there will be no suggestion whatsoever that the two sides are any closer to agreeing," Jianxue has said.
His article assumes significance as it appears before of the expected 18th round of Special Representatives border talks between NSA Ajit Doval and his Chinese counterpart Yang Jiechi.
Related