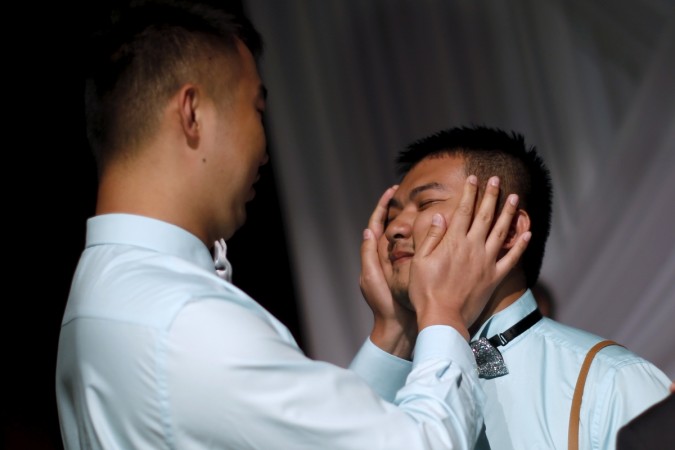 A Chinese court Wednesday trashed the country's first legal case for same-sex marriage rights that was filed by a man last year who had complained against a civil affairs bureau for refusing to register his marriage with another man. The court ruling is likely to be a setback for those fighting for gay rights in China as they have been pushing for bolder discussions on homosexuality in recent years.
Sun Wenlin, the 26-year-old man from China's Changsha city, had filed a lawsuit against a civil affairs bureau in a local Furong district court in December, after the latter had rejected his same-sex marriage certificate application, claiming that only "one man and one woman" can be married in China.
The Changsha court Wednesday dismissed the case, according to the Associated Press. Sun told AP, he had been approached by the local police who urged him to drop the lawsuit, but he persisted. Hundreds of gay rights supporters had gathered outside the court on the day of the ruling, reports said.
Sun, however, was not defeated by the court's decision and vowed to take the fight further.
"We will continue to appeal. I think it is worthwhile. It catches people's attention and it will help our opinions spread," he told the Guardian. "All I need is freedom and equality. What we are trying to achieve is freedom and equality."
While homosexuality was decriminalised in China in 1997, same-sex marriage is still not legally acceptable in the country. However, there has reportedly been an increased awareness about rights and issues of the lesbian, gay, bisexual and transgender (LGBT) community.
The U.S. Supreme Court ruling on gay marriage last year had sparked a huge debate in China on the issue, and gay rights activists had told International Business Times US they had never seen "so much debate in both the traditional media and social media."
In June last year, a 22-year-old Chinese university student came out as a lesbian while on stage at her graduation ceremony in the Guangzhou, wearing a rainbow flag. She had said on social media she was inspired to take the step following the U.S. Supreme Court's decision to recognise gay marriage. In another boost for gay rights in China, a video of a marriage proposal by a man to anther man on the Beijing underground train went viral on Weibo, China's version of Twitter in September last year.
Sun had told Chinese media last year he was contesting the court's argument that the law only allows marriage between a "husband and a wife."
"The original text of the marriage law does not say one man and one woman, but a husband and a wife. I personally believe that this term refers not only to heterosexual couples but also to same-sex couples, to gay men and lesbians. The law is not discriminatory," he had told the Global Times.