Chinese air force bombers conducted a series of patrols over the disputed South China Sea on Thursday. China's People's Liberation Army (PLA) said that the exercise was carried out to show its capability to breach the Cold War era line of containment, according to reports.
The air force said that the exercises involved H-6K bombers flying over the Bashi Channel between Taiwan and the Philippines and the Miyako Strait near the Japanese island of Okinawa. The officials said that they were conducting a series of training exercises.
The South China Sea dispute involves islands and maritime claims in the region among several sovereign states. China claims sovereignty over all of the South China Sea. Many international non-claimant nations, particularly the United States, however, want the South China Sea to remain as international waters, considering the fact that a high proportion of the world's trade passes through this region.
China has rapidly built reefs into artificial islands which are capable of hosting military planes. The US has challenged these annexations of the islands and has advocated for a diplomatic settlement of the disputes.
PLA spokesperson Shen Jinke sad that the air patrol was aimed to show that the Chinese jets can breach the "First Island Chain", a line stretching from Japan and Taiwan. China says that the line has been used by the United States in an attempt to control Beijing since the Cold War, according to South China Morning Post.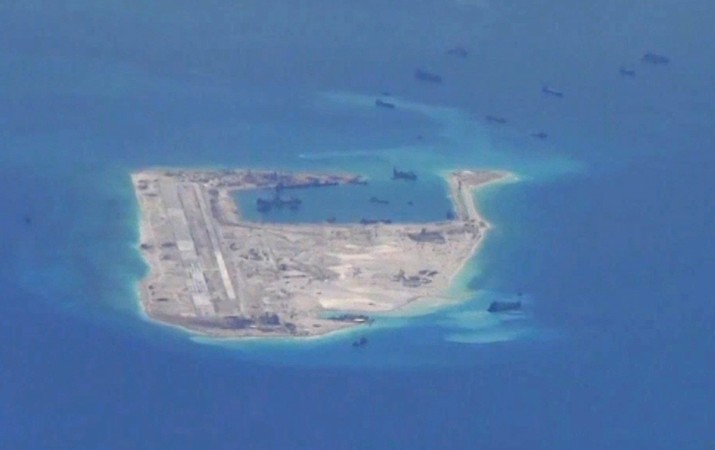 "The PLA is stepping up joint operation combat training as President Xi Jinping ordered them to be combat-ready all the time," a Beijing-based naval expert Li Jie said. "The air patrol also aimed at showing the PLA air force is ready to join with the navy in the high seas for all kinds of missions."
The exercise was conducted at the time when three American carriers -- the USS Ronald Reagan, the USS Mimitz and USS Theodore Roosevelt – are operating in the region currently. The US vessels had recently conducted training exercises with the Japanese navy further to the north amidst escalating tensions with North Korea over its ambitious nuclear programme.