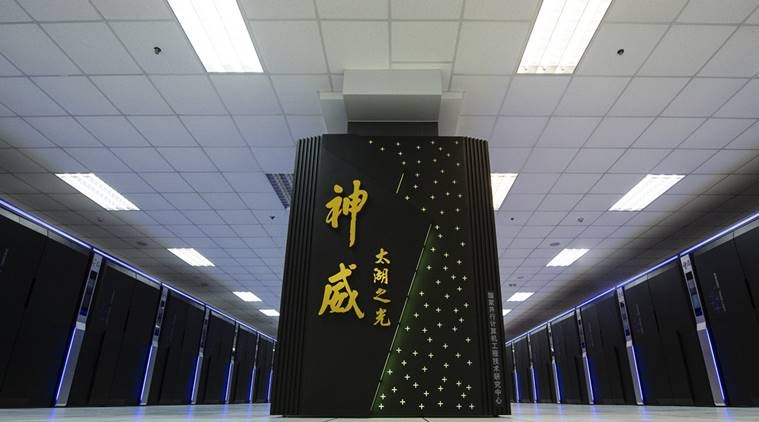 China continues to dominate the top 500 list of the world's fastest supercomputers by not only claiming the top two positions, but also outpacing the US in the total number of ranked systems.
According to the new TOP500 list, released twice annually, China's Sunway TaihuLight maintained its number one ranking for the fourth time in a row with a performance of 93.01 petaflops — a thousand trillion floating point operations per second.
Installed at the National Supercomputing Center in Wuxi, Sunway TaihuLight is built entirely using home-made processors, and it has been at the top position since June 2016.
Another Chinese supercomputer called Tianhe-2, or Milky Way-2, has once again occupied the number two position with 33.86 petaflops. Tianhe-2, which is based on Intel chips, was the number one system on the TOP500 list for three consecutive years until Sunway TaihuLight displaced it in June last year.
Tianhe-2 is followed by Switzerland's Piz Daint, a system installed at the Swiss National Supercomputing Center, with 19.6 petaflops. Claimed as the most powerful supercomputer in Europe, Piz Daint was upgraded last year with NVIDIA Tesla P100 GPUs.
The fourth position was claimed by Japan's Gyoukou, which pushed Titan — the top US system — to the fifth spot. Deployed at Japan's Agency for Marine-Earth Science and Technology, Gyoukou achieved a performance score of 19.14 petaflops, compared to Titan's score of 17.6 petaflops.
Titan has maintained a constant score of 17.6 petaflops since it was installed at the US Oak Ridge National Laboratory in 2012.
The new TOP500 list also has China overtaking the US in the total number of ranked systems by a margin of 202 to 144. The US was leading the race with 169 supercomputers only six months ago, followed by China with 159 systems.
"It is the largest number of supercomputers China has ever claimed on the TOP500 ranking, with the US presence shrinking to its lowest level since the list's inception 25 years ago," TOP500 said in a statement.
According to experts, the US Department of Energy is currently working on a system called Summit that is likely to dethrone Sunway TaihuLight in 2018. Summit is expected to run with a performance of 200 petaflops.
Meanwhile, some experts have also said that China's overtaking of the US in the total number of ranked supercomputers didn't make much sense as the latter's technologies still dominate the high-performance computing (HPC) market.
"We should be soberly aware that core technologies of the mainstream products on the HPC market, such as CPU and GPU, are now still being dominated and controlled by US companies," Liu Jun, the general manager of China's Inspur, told Xinhua. "China still lags far behind when compared with the US and Europe and requires continuous efforts for further development."