The Chinese TV show "Journey to the West" is highly popular, having been telecast in its entirety over 3,000 times. It may soon find global recognition, thanks to the perseverance of actor Zhang Jinlai, who is best known for his portrayal of the Monkey King the series.
55-Year-Old Jinlai, had recently announced that he is pursing the prestigious Guinness World Record for the classic Chinese TV series for "most broadcast TV show" and "highest rated TV show", Global Times reported. His announcement was received with an overwhelming response from the fans of the show, who even tagged him as TV's "best Monkey King".
"Journey to the West", which first aired in 1982, is based on a Chinese novel published in the 16th Century, during the reign on the Ming Dynasty. Penned by the famous novelist and poet Wu Cheng'en, the novel has been recreated in the form of films, TV series and animations.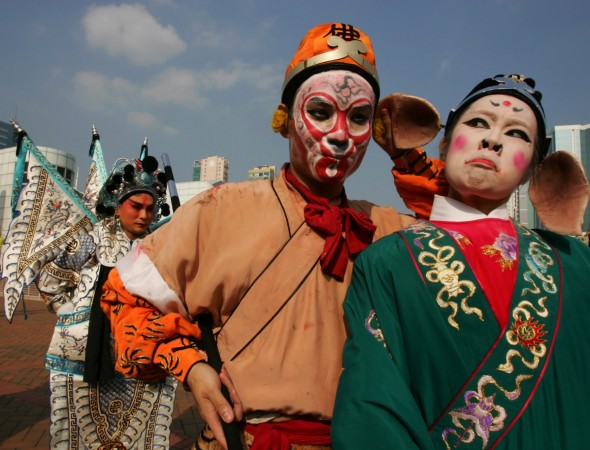 The TV series, which starred Zhang Jinlai as one of the central characters, also known as Sun Wukong, had 41 episodes, which was shot and remade over a span of 17 years. Monkey King is a travel companion of the monk Xuanzang, who is on ventures on a quest to the West (now known as India) on a pilgrimage to obtain sacred Buddhist sutras.
The last instalment of the series was aired in 1999. The series had a significant number of audiences both within China and in foreign countries. China.org claims that it was re-played on TV every year and Zhang Jinlai became a household name for generations.
Zhang, who is the fourth member in his family - after his great-grandfather Zhang Tingchun, grandfather Zhang Yisheng and his father Zhang Zongyi – to play the role of the Monkey King is also hoping to acquire another World Record; "most members of one family to play a single dramatic role."
The youngest Zhang claimed that the TV series already holds two records with the Shanghai Great World Guinness Records, one for "largest Journey to the West art collection" and another for the "longest production time for a single TV series."