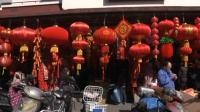 China's growth fell to a six-year low in the first quarter this year, even as policymakers roll out stimulus measures to boost the sagging economy and avert deflation risks.
The country's gross domestic product (GDP) grew at 7% in Q1 on yearly basis, declining from 7.3% in the final quarter last year, China's statistics bureau said.
"The weaker Q1 GDP growth and much-weaker-than-expected March activity data suggest that growth momentum remains weak, which calls for further policy easing," said Nomura Holdings in a note to MarketWatch.
Although the growth is in line with the Chinese government's target of 7% this year, it was the slowest expansion since the first quarter of 2009, when China's growth plummeted to 6.6% amid the global financial crisis.
Economic activity in the world's second largest economy continues to be weighed down by cooling property market, industrial overcapacity and weak export demand.
The World Bank projects China's growth to slow down to 7.1% in 2015 and 7% in 2016, from 7.4% in 2014.
Further, the March numbers for retail sales, industrial output and fixed asset investment (FAI) pointed to significant weakness in the growth, missing analysts' estimates.
While FAI growth, a key driver of Chinese economy, fell to lowest levels since 2000, growth in industrial production was the weakest since the global financial crisis in 2008.
"China's economy thus clearly continues to slow, and the near-term focus continues to be on what kind of a policy response will follow," said Nordea Markets in a note.
The People's Bank of China (PBoC) had cut the key interest rates twice since last November, besides lowering reserve ratios for banks and easing the measures to prop up the weakening real estate sector in the country.
Analysts believe that loose monetary conditions are being exploited to invest in domestic stock markets with only a little reaching the targeted sectors.
Chinese stocks markets are currently trading at their highest levels since 2008, on the expectations that authorities will announce more monetary stimulus measures to bolster growth.