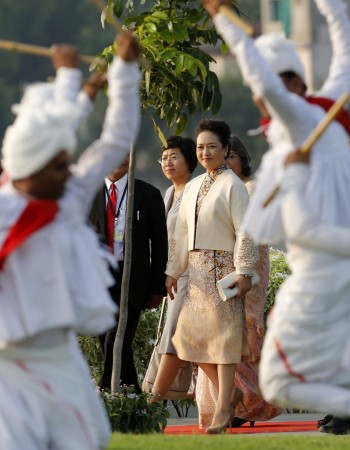 In a major gaffe by the Chinese First Lady that seems to have been brushed under the carpet, Peng Liyuan, wife of Chinese President Xi Jinping mistook a group of students from the Northeast in a Delhi school for Chinese, even speaking to them in her language.
On Thursday, when Liyuan visited the Tagore International School, she was reportedly greeted by a group of students, some of whom were from north-eastern states, who courteously asked her 'How Are You' in Chinese.
She then stopped a Manipur boy among them and asked him, "Ni sh? zhongguo ren" (Are you Chinese?), The Press Trust of India reported.
Of course, the 12-year-old boy, Albert Ginsangmuam K, a class VII student, gave a pat reply, "Bu. Woh shi Indu ren. (No, I am an Indian)".
Incidentally, Albert, who hails from Manipur could manage to speak in Chinese as he has been taking lessons in Chinese as part of a course.
Suprisingly, most sections of the media seemed to ignore the incident and focused instead on how Liyuan 'charmed the students with her singing skills'. The incident goes on to further reflect the identity crisis of those from the northeastern states of the country.
While this could be passed off as an inadvertent mistake, it is a bit too rich coming from the wife of China's head of state.
While China's affinity for India's north-east is well known (it claims Arunchal Pradesh as part of its territory and refers to it as 'South Tibet'), this incident, though humorous, also indicates how the Chinese are still not educated about the nationality of those staying in the north-eastern regions.
In India itself, the northeasterners are often racially targetted for their appearance, with many ignorant people calling them names indicating they do not belong to India but to China.
In fact, just before Jinping's visit, the Gujarat Police reportedly asked the Grand Hyatt hotel in Ahmedabad, where the Chinese head had stayed, to keep staff from North East states away, allegedy to ensure they are not mistaken for Tibetans, the Ahmedabad Mirror had reported.
Evdidently, those from the North East just can't seem to catch a break from the identity crisis.