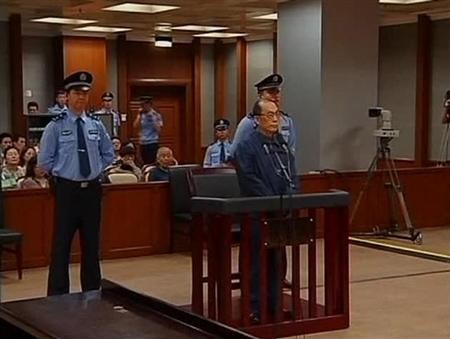 The Beijing No. 2 Intermediate People's Court has sentenced China's former railways minister Liu Zhijun to death with a two-year reprieve on Monday for bribery and abuse of power, the state-run Xinhua news agency has reported.
Apart from the death penalty with a two-year reprieve, the 60-year-old will be deprived of his political rights and activities for life. All of his personal property will be confiscated. The ex-minster is also sentenced to 10 years of imprisonment for abuse of power, the court has announced.
Liu was found guilty of accepting bribes amounting to 64.6 million Yuan (10.53 million U.S. dollars) over a period of time extending from 1986 to 2011. The state media reported that Liu abused his powers as official of railway bureaus and the minister of Railways and helped 11 people win contracts and promotions in exchange of bribes.
The court verdict held that Liu's crime involved huge amounts of money and caused loss of public assets His actions violated the rights and interests of the people and the state.
Liu Zhijun's case has come to symbolise the corruption that came along the exhibition of the world's biggest high-speed Chinese rail network. A series of downfalls, including a bullet-train crash that killed 40 people in 2011, raised questions on the quality of railway infrastructure.
Liu was removed from his post in 2011 and expelled from the Communist Party last May following allegations of embezzlement of funds and bribery while handling contracts for the high-speed rail project. The court has sentenced him to "death with a two-year reprieve" which, under Chinese law, means that the death sentence will be reduced to life imprisonment for good behaviour.
The court also acknowledged that the former minister confessed to each of the crimes he was convicted of and that the funds lost for his crime has now been recovered.
Liu is the most high-profile official to be convicted of corruption since Xi Jingping became China's president in March.