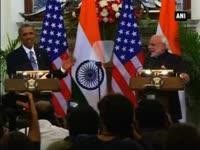 A day after US President Barack Obama supported India's attempt to become part of the 48-member Nuclear Suppliers Group (NSG), China appeared to create hurdles, saying India's admission "requires very careful consideration from all the member countries" and that India should be included "if it meets all the requirements."
At a media briefing on Monday, the Chinese Foreign Ministry Spokesperson Hua Chunying said, "We believe that such (an) inclusion should be conducive to the integrity and effectiveness of the regime and decision should be made on consensus. We notice India's commitment to relevant issues," according to PTI.
"We support such discussion and we also support India's inclusion into this group if it meets all the requirements," she said.
One of the requirements is the signing of the nuclear non-proliferation treaty; India is not a signatory to the treaty.
"We support the group to include new members and we support India to take further measures to meet the requirements for the inclusion in the group. India's inclusion...needs prudence and caution and thorough discussions among all members," she added.
Analysts also see as China pushing Pakistan's case for membership of the NSG to counter US support to India.
The NSG controls global civil nuclear trade regime.
To strengthen global non-proliferation and export of nuclear raw materials, India and the US expressed their committment for India's phased entry into the Nuclear Suppliers Group (NSG), the Missile Technology Control Regime (MTCR), the Wassenaar Arrangement and the Australia Group.
This was informed in a joint statement after the scheduled talks that were held in Delhi by Obama and Prime Minister Narendra Modi.