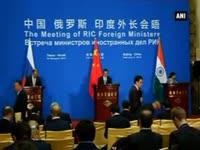 India's bid for a permanent seat at the United Nations Security Council (UNSC) received a boost when its biggest neighbour China supported it.
At a press coference in Beijing on Thursday, foreign ministry spokesperson Hua Chunying said that "China respects the willingness of the two countries to play a bigger role in the UN body." The other country referred to is Brazil.
The spokesperson however, added a caveat, saying China would prefer a "broadest consensus through diplomatic means," PTI reported.
The comment comes after the foreign ministers of China, and Russia, in a joint statement, after the recent trilateral RIC meeting, "reiterated the importance they attached to the status of India in international affairs and supported its aspiration to play a greater role in the United Nations."
While China supported India and Brazil, it preferred not to comment on Japan's desire to seek a permanent seat at the UNSC.
China's support comes on the same day when reports said that Pakistan prime minister Nawaz Sharif had told US president Barack Obama that India should not get permanent membership of the UNSC for its failure to respect UN resolutions on Kashmir.
Sharif told Obama India doesn't qualify "due to its non-compliance of all the resolutions passed by the UN on Kashmir and has "not fulfilled the commitment to give the right of self-determination to people of Kashmir," PTI quoted Pakistani officials as saying.
At present the UNSC has five permanent members – the US, the UK, France, China and Russia.