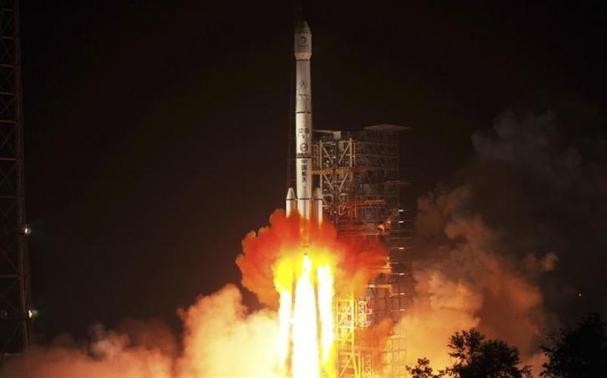 Taking a significant stride towards its mission to land a person on the moon, China on Monday successfully launched the Chang'e-3 lunar probe with its first moon rover "Jade Rabbit" or "Yutu" in Chinese.
The Long March-3B rocket carrier blasted off from the Xichang Satellite Launch Center in southwest China at 1:30 a.m (1730 GMT), according to the Xinhua state news agency.
The launch came a day after India's first interplanetary Mars orbiter "Mangalyaan" left Earth's orbit, setting off for its journey towards the red planet.
Chang'e-3 is expected to touch the surface of the moon in mid-December. If successful, China will become the third country after the United States and Russia to soft land on the moon.
"The probe has already entered the designated orbit," Xinhua state news agency quoted Zhang Zhenzhong, director of the launch center in Xichang. "I now announce the launch was successful."
"We will strive for our space dream as part of the Chinese dream of national rejuvenation," he added.
Chang'e-3 is part of China's lunar mission following the success of two missions in the past. Chang'e-1, which was launched in 2007, intentionally crashed onto the surface of the moon, after orbiting for 494 days. Chang'e-2 was then launched in 2010. It is more than 60 million km away from the Earth and is expected to go as far as 300 million km.
The moon rover called "Yutu" (Jade Rabbit) is named after an ancient Chinese myth that a woman named Chang'e, who swallowed magic pills, took her pet "Yutu" to fly towards the moon, where she has been living as goddess with the white rabbit ever since, according to Xinhua.
China is still young in lunar mission, as former Soviet Union landed its first probe in 1966 and the United States in 1969.
China has expressed its desire to cooperate with other countries, including neighbouring country India. "We are open in our lunar program, and cooperation from other countries is welcome," Li Benzheng, deputy commander-in-chief of China's lunar programme, was quoted as saying by Xinhua. "We hope to explore and use space for more resources to promote human development."