The Liaoning, China's first operational aircraft carrier, arrived in Hong Kong on Friday as part of its maiden trip outside the mainland China. The warship, which entered Hong Kong waters to mark the 20th anniversary of city's handover from Britain to China, was welcomed by top local officials at the Stonecutters Island naval base of the People's Liberation Army (PLA).
The opening up of the Liaoning aircraft carrier to the public for the first time has been viewed as a show of strength at a time when Chinese and Indian soldiers are locked in a standoff near the Sikkim-Tibet-Bhutan tri-junction for nearly a month now. The expo also comes amid rising tensions in the region as Beijing's territorial claims in the South China Sea are challenged by a host of nations.
The Liaoning, which is a refurbished Soviet-era vessel of the Kuznetsov class, was commissioned by the PLA Navy in 2012. China conducted the first live-fire drills involving the Liaoning in mid-December 2016, nearly a month after it was declared combat-ready.
The aircraft carrier is accompanied by three smaller warships, including the Jinan, Yinchuan and Yantai, to Hong Kong. It will reportedly be anchored near Hong Kong's Tsing Yi island for five days.
Here's how the Liaoning aircraft carrier stacks up against its American and Indian counterparts:
Displacement & Size
The Liaoning is more than 300 metres long and about 75 metres wide. It has an estimated full load displacement of almost 60,000 tons-- over 15,000 tons more than the Soviet-built Kiev-class Indian carrier INS Vikramaditya (about 284 metres long and 60 metres wide). The Chinese vessel also has a size advantage over the Indian warship, with a nearly 20 metres longer deck.
However, the Liaoning's size falls well below the US Nimitz-class carrier USS Ronald Reagan, which weighs 97,000 tons fully loaded and spans 333 metres long.
Speed
The Liaoning is powered by a conventional propulsion system with a top speed of around 20 knots. While the Liaoning's top speed is possibly on par with India's INS Vikramaditya, which is powered by new generation steam boilers, it is well below the 30-plus-knot top speed of the USS Ronald Reagan powered by nuclear reactors.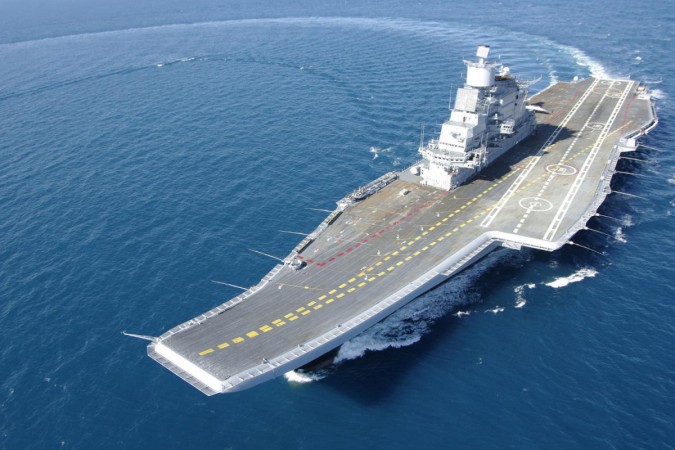 Airwing
The Liaoning can carry over 40 aircraft, including Shenyang J-15 multirole fighters, Z-18J Airborne Early Warning helicopters, C-9 Search and Rescue helicopters and Z-18F Anti-submarine helicopters.
India's INS Vikramaditya has the ability to carry over 30 aircraft comprising an assortment of MiG 29K/Sea Harrier, Kamov 31, Kamov 28, Sea King, ALH-Dhruv and Chetak helicopters. The USS Ronald Reagan, on the other hand, can carry over 60 aircraft.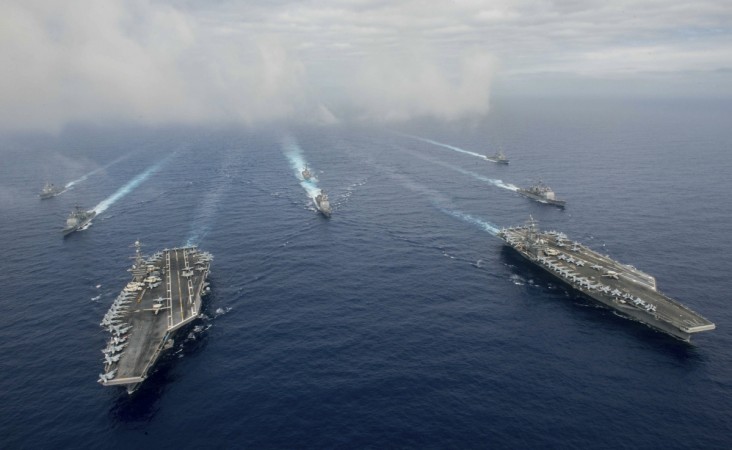 Armament
The Liaoning is armed with only short-range defensive weapons and fitted with three or four HQ-10 short-range air defence missile launchers, each having 18 cells. The Liaoning is also equipped with 30mm close-in weapon systems and two anti-submarine rocket launchers.
When delivered, India's INS Vikramaditya had no onboard armament. However, the ship now has four AK-630 close-in weapon systems (CIWS), and a Barak 1 surface-to-air missile system. The carrier is also expected to get the Barak 8 long-range surface-to-air missile system.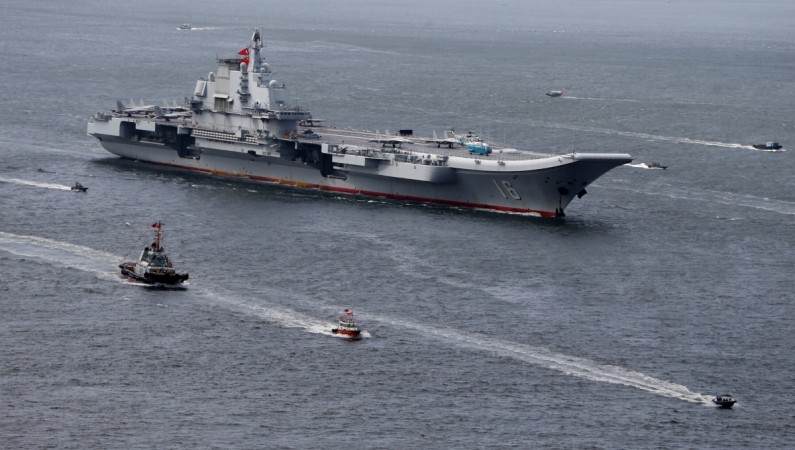 The USS Ronald Reagan packs multiple NATO Sea Sparrow missile systems, Phalanx CIWS and Rolling Airframe Missile mounts.
China's second aircraft carrier
On April 26, China launched its second aircraft carrier dubbed "Type 001A." The vessel, which is likely to be named "Shandong," is the country's first domestically built carrier, and has a cruising speed of 31 knots and a displacement of 70,000 tonnes.
The Type 001A is 315 metres long and 75 metres wide, and is expected to enter service in 2020. Like Liaoning, Shandong will also use a ski ramp, rather than catapults to launch its aircraft. However, it will reportedly also incorporate certain design improvements over Liaoning, allowing it to carry between six and eight more fighter jets than the Liaoning.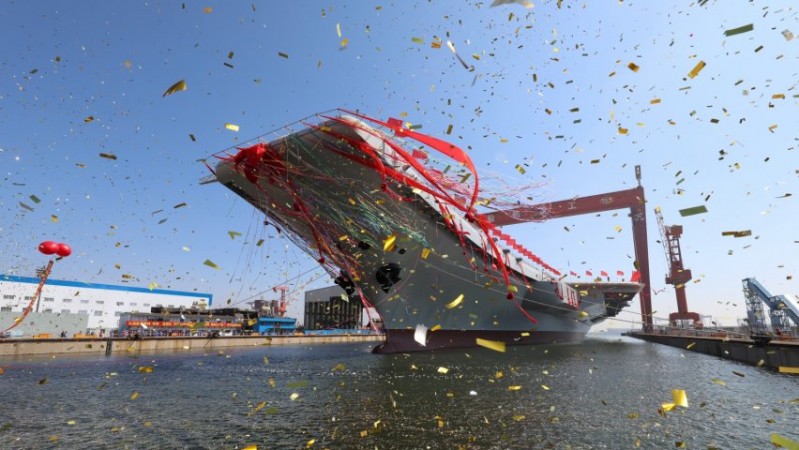 China has also reportedly begun construction on a third aircraft carrier, and the country "may eventually field a force of four to six aircraft carriers."
What does it mean for India?
Following the decommissioning of the INS Viraat earlier this year, the Indian Navy is left with only one active aircraft carrier, INS Vikramaditya. Therefore, China's indigenously built Type 001A ship will give the country an edge in the aircraft carrier race over India, which is now relying on a refurbished 1980s-era Russian ship.
While India is planning to commission the new INS Vikrant carrier sometime next year, the ship reportedly will not have an aviation complex or even anti-aircraft missiles. The carrier will be combat-ready by 2023-- eight years behind schedule and three years after China's second aircraft carrier is expected to enter service.
Though the Narendra Modi-led BJP government has been talking about reinforcing Indian military by pumping more funds, the budget spend has not been tantamount. China, on the other hand, has made remarkable progress in modernising its military, and now has its eyes set on the Indian Ocean.
"In order to protect China's territories and overseas interests, China needs two carrier strike groups in the West Pacific Ocean and two in the Indian Ocean. So we need at least five to six aircraft carriers," Yin Zhuo, a senior researcher at the PLA Navy Equipment Research Center, told state media in February.