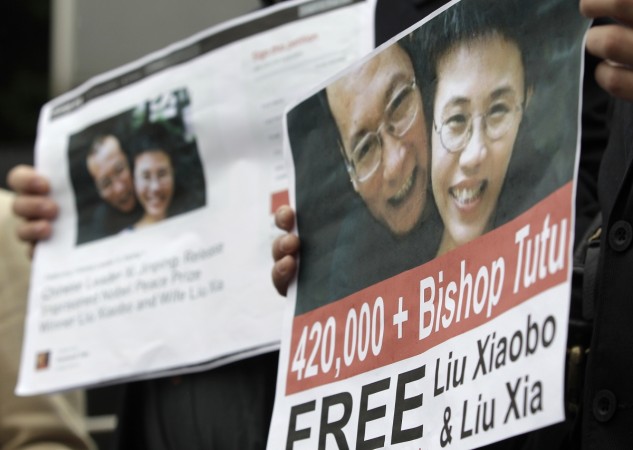 China's Foreign Ministry has reportedly reacted to the US Senate's bill on renaming a Washington plaza after activist Liu Xiaobo by saying there will be "serious consequences" if they followed through to make the bill a law. The bill was passed on Feb. 13 in the Senate.
Liu Xiaobo is currently serving a 11-year jail sentence for writing a manifesto called "Charter 08", which advocates democracy in China and the end of one-party rule. He was charged in 2009, and hence could not receive his Nobel Peace Prize in 2010. His wife Liu Xia remains under house arrest.
The US Senate, in a bid to remind the Asian country of Xiaobo's fate, voted on Feb. 13 to rename a short stretch of the road in front of the Chinese Embassy in Washington after him, reports The Telegraph. Republican Senator and Presidential Candidate Ted Cruz had introduced the bill.
"It's provocative and counterproductive. We strongly urge the US side to stop such actions," Zhu Haiquan, a Chinese embassy spokesman said in a statement to Reuters.
Chinese Foreign Ministry spokesman Hong Lei was quoted by Reuters as saying the move ran "contrary to the basic norms of international relations."
"If the relevant bill is passed into law it will cause serious consequences. We demand the US Senate stop promoting the bill and hope the US executive authorities put an end to this political farce," Lei said.
The US and China have had a contentious relationship over the years. The US recently carried out military exercises in disputed parts of the South China Sea, to which China stakes claim. The American country also accuses China of cyber espionage. To China's chagrin, the US has also sold $1.83 billion worth of weapons to Taiwan, a country China believes is part of the mainland. The US has also signed a treaty with Singapore allowing US spy planes to be deployed in the city state.
US President Barack Obama will be advised to veto the bill, a Whitehouse spokesperson told Reuters.