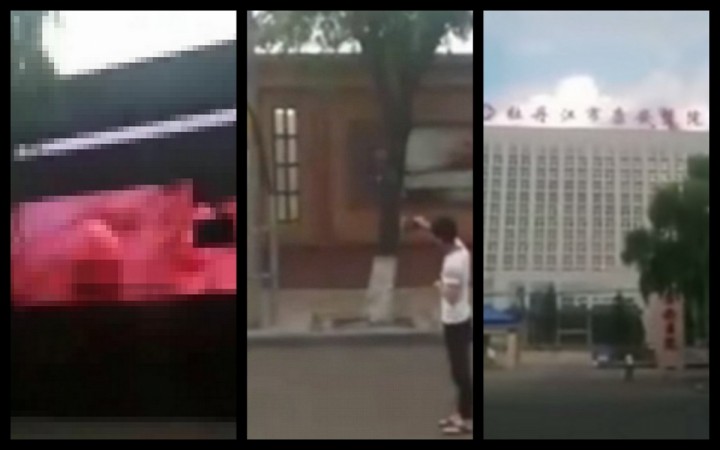 Residents of Chinese city Mudanjiang were left shocked recently after hardcore porn clips were broadcast on a roadside mega screen for full 10 minutes, before the local police arrived at the scene and unplugged the cables.
After two days of investigation, the police found that an operator of the company that owned the public display screens was watching the porn from his workstation. It emerged that the man forgot to unplug the output cable while watching the erotic content, reported the People's Daily Online.
The mega screen in Mudanjiang is reported to have played the porn accompanied by sound for 10 minutes until it was turned off. Dozens of passersby stopped by and started recording the bizarre incident on their smartphones. Several videos of the incident were reportedly shared through social networking app WeChat.
The People's Daily Online, citing a local resident identified as Wang, stated that several elderly people and young children witnessed porn being played out in public. "How can they play such a content in public," Wang asked expressing his surprise.
People's Daily Online, which reported the incident on 24 June, said that pornographic content began airing on the public screen at 4pm (local time) and it went on till the alarmed residents called the police.
The police traced the culprit, an operator at the corporate office of the company, which owned the public screens. Local residents said that the screens were rarely used for playing movies.
The Daily Mail reported that the man responsible for the fiasco was arrested and he has admitted to the police that he made a mistake as he was not familiar with the system.
Mudanjiang is a regional communications hub, located barely 248 km from Vladivostok in Russia.
A similar incident took place in south Indian state of Kerala recently, as a cable operator mixed up his personal pen drive containing hardcore porn with public display ads. In Kalpetta - a small town lying on the Kozhikode-Mysore National Highway in Wayanad district of Kerala, the porn content was screened at a bus stand for 30 minutes. It finally stopped when the police cut the cables.