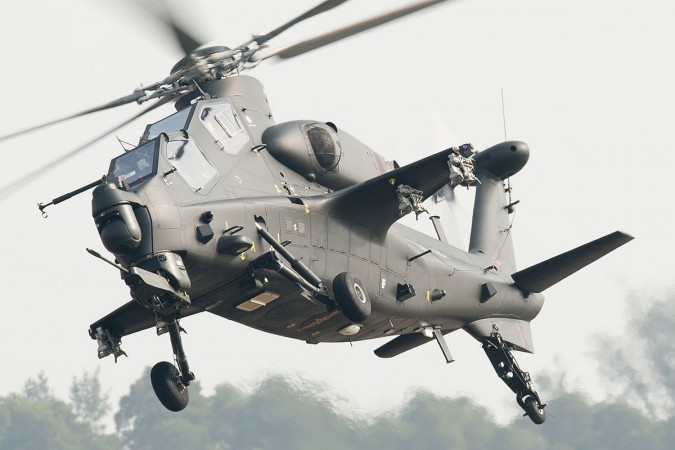 Pakistan is all set to welcome new attack helicopters from China -- the Z-10 -- in 2015 if reports are to be believed. Moreover, these attack helicopters will be given free of cost to China's "all-weather friend", Pakistan.
The reports originated from unconfirmed Russian media, which claimed that China might be gifting three of its latest anti-tank attack helicopter that was designed by the Russian design bureau, Kamov, and further developed by the Chinese 602nd Research Institute.
The primary missions for the Z-10 are anti-tank missions with air-to-air missions being its secondary capability. These according to Duowei News, a US-based Chinese political news outlet, will be added to the aviation fleet of Pakistani Army.
This helicopter will be able to attack either on ground or on air. It has a range of 3-4 kilometres without appearing on the radar. The maximum speed of Z-10 is 300+ km/h with a range of 800+. It also has 23 mm or 30 mm autocannon mounted, 57 mm, 90 mm multi-barrel unguided rocket pods and four hard points for missiles.
It is believed that this aircraft will be used by Pakistan against the ongoing terrorist operations following the TTP attack on a Pakistani Army School recently.
However, the report has raised suspicion on how effective can Z-10 be in counterterrorist operations, since its engine has low power with a smaller payload and its defensive mechanisms and capabilities are weaker when compared with other attack helicopters around the world.
Duowei claims that these helicopters are to counter balance against its enemy and neighbour, India. India has been domestically testing and developing attack helicopter, Light Combat Helicopter which will be complemented with that of the soon-to- be-brought American AH-64 Apache attack helicopters.
The comparison between the two attack helicopters will be improper due to the gap in the power systems of the two helicopters -- Z-10 and Apaches.
It is also important to note that in 2012, US had the United Technologies and its subsidiaries selling the engine control software to China, thus helping in the development of the Z-10 helicopter. However, China had denied buying or using the software.
This 'gift' from China will be more than a gift as it will allow the Chinese to see how the Z-10s would perform during real combat situations. This will provide the Chinese some crucial data that might help to further the research and develop the attack helicopter.
China has given weapons like MBT-3000 tank, the JF-17 Thunder combat aircrafts and the F-22P general purpose frigate to Pakistan in recent years.
Pakistan will also be adding a batch of Mil Mi-35 'Hind E' heavy attack helicopters from Russia. Russia has already approved the deal, even though New Delhi was unhappy with such a deal that will arm its foremost rival. India and Russia have been close allies since the Cold War.