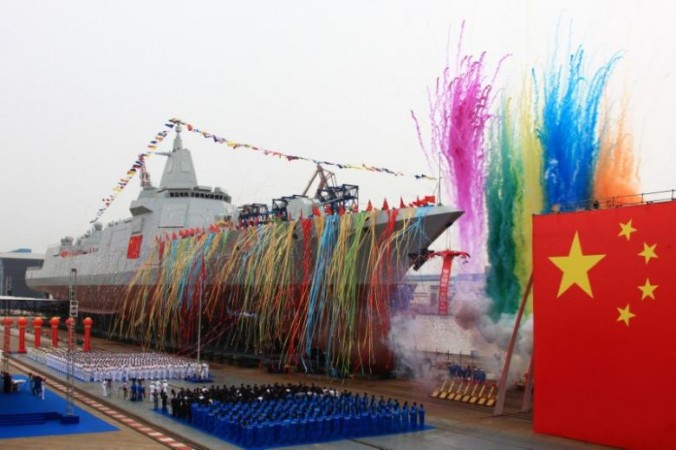 China is ramping up financial aid for Pakistan and building some highly advanced warships for the key ally, Chinese state media have reported. Beijing's overtures underscore the key place Pakistan holds in its plans to checkmate direct rival India in South Asia.
State-owned China State Shipbuilding Corporation said the ship being built for Pakistan is a version of the Chinese Navy's most advanced guided missile frigate. The Type 054AP ship will double the combat power of the Pakistani Navy's surface fleet.
The ship will feature advanced detection and weapon systems and will be capable of anti-ship, anti-submarine and air-defence operations.
Citing an insider, the Chinese newspaper said the ship designed and built for Pakistan is the largest and most powerful combat vessel China has ever exported.
Balance of power in Indian Ocean region
The ship, once delivered to Pakistan, will "strengthen the country's capability to respond to future challenges, maintain peace and stability and the balance of power in the Indian Ocean region," the report said.
Citing Pakistan Navy, the report the ship's class is Type 054A. These vessels are the best frigates with the PLA Navy and are equipped with advanced radars and missiles. About 30 Type 054As are in service with the PLA Navy. China will supply four such ships to Pakistan.
A senior researcher at the PLA's Naval Military Studies Research Institute said the collaboration underlines Pakistan's increased trust in Chinese warfare technologies vis-a-vis western systems. The researcher, Cao Weidong, told the daily that earlier Pakistan would request Chinese contractors to use Western radars or weapons on ships constructed by Chinese shipbuilders.
"But it seems that all weapons and radars on the new ship will be Chinese products, which reflects our progress in the industry and the Pakistani Navy's confidence in our technology and capability," he said.
Separately, China said on Wednesday it was extending financial aid to help Pakistan fill the gamps in its shrinking foreign exchange reserves.
"The Chinese side has offered and will continue to offer its best through assistance, trade, investment and all-around practical cooperation to support and boost Pakistan's economic and social development," Chinese foreign ministry spokesman Lu Kang said at a media briefing in Beijing.