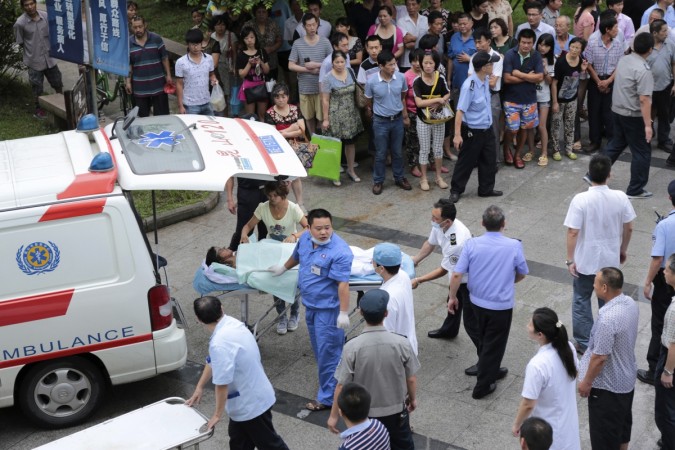 A massive explosion at a factory in eastern China has killed over 65 people, according to local media.
More than 100 people were injured in the blast that took place in the city of Kunshan located in east China's Jiangsu Province.
The Chinese official Xinhua News agency says that the exact number of casualties was still being verified as rescue work and investigation are underway.
The blast occurred at around 7:37 am (local time) on Saturday inside a wheel hub polishing workshop of a metal factory. The exact cause of the blast has not been identified yet.
Pictures published online showed people with severe burns sitting on the ground outside the factory from where a huge plume of smoke was billowing into the morning sky. Other images showed the injured lying on wooden pallets and being loaded onto trucks and ambulances for treatment.
The factory was identified as belonging to Zhongrong Plating – a company that produces car parts and employs over 450 workers. The US giant General Motors was among the clients of the factory, according to the China Central Television (CCTV).
Some media reports stated that more than 200 workers were present at the site when the blast took place, and 40 of them died immediately.
"The scene is a mess, its unrecognisable," a witness at the scene wrote on Sina Weibo, China's most popular microblogging site.
Medical staffs from Shanghai were on their way to treat the victims, ABC reported citing a local newspaper.
The explosion appears to be an industrial accident that tends to occur regularly in China, where the safety measures are reported to be lax.
Last year, a fire at a poultry plant in the northeast of the country killed 119 people.
At least 65 dead, 120 injured after huge explosion at a metal production factory in East China's Jiangsu - @cctvnews pic.twitter.com/2L2w2KDyKj

— Jon Passantino (@passantino) August 2, 2014
MORE: At least 65 killed, over 120 injured after blast rocks Chinese metal production factory http://t.co/wxGSsmscNo pic.twitter.com/kE8mvpstEW — RT (@RT_com) August 2, 2014
65 dead, over 100 injured in factory blast in Kunshan, east China on Saturday morning (web photo) pic.twitter.com/u1XIqqFoaQ

— China Xinhua News (@XHNews) August 2, 2014
65 dead, 150 injured in powerful factory blast in Kunshan, east China http://t.co/0NYP3NelHo pic.twitter.com/ek8raPyu1Q — China Xinhua News (@XHNews) August 2, 2014