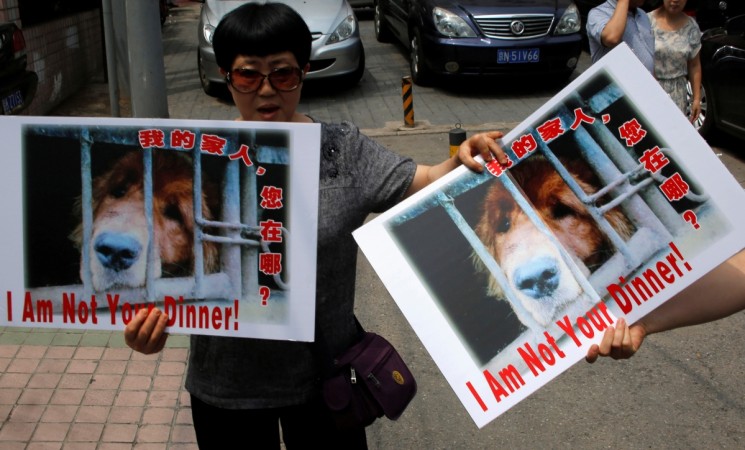 "A dog is a man's best friend." Well, at least that is what people say. Imagine "man's best friend" ending up on someone's dinner table.
This is exactly what happens in China every year at the Yulin dog meat festival, where at least 10 million dogs are tortured and slaughtered to satisfy the taste buds.
According to the Washington Post, around 30 million dogs are slaughtered across Asia throughout the year, with more than one-third of them being killed in China. Thousands of them are set to be killed at the 10-day Yulin festival this year, slated to begin from June 21.
Chinese and international animal rights activists on Friday presented to representative office of Yulin city in Beijing a petition signed by a record 11 million people protesting against this barbaric killings and demanding an end to the festival. Activists say most of the dogs rounded up for the festival are either stolen pets or stray dogs beaten to death in slaughterhouses.
According to a BBC report, around 24 activists along with their dogs handed in the petition. They held banners which had photographs of their pets with the message: "I'm not your dinner."
Supporters of the festival are of the opinion that consuming dog meat is good for people and that there is no difference between consuming canines and other forms of meat.
"I also want to point out that the dogs we eat are specially raised for their meat. We don't eat pet dogs! It's just like people eat carp but don't eat goldfish!" a resident of Yulin was quoted by Washington Post as saying.
They argue that this festival has been going on for thousands of years. They claim eating dog meat has various health benefits, like consuming some parts of the dog could help against rheumatism and and also improve kidneys and stomach functions. It also helps in improving a man's sex drive, according to the report.
However, BBC cited a report by state news agency Xinhua which said the Yulin festival began only a few years ago. But the tradition of eating dogs has been in existence for 400-500 in countries like China and South Korea because it is believed to cool people down in summer.
Humane Society International (HSI), an animal protecting organisation, has described the Yulin dog eating festival as a "nightmare, not a festival."
Peter Li, China policy expert at HSI, was quoted by the Washington Post as saying: "China's dog meat trade is animal abuse and criminality on a massive scale, and a stain on China's international reputation."