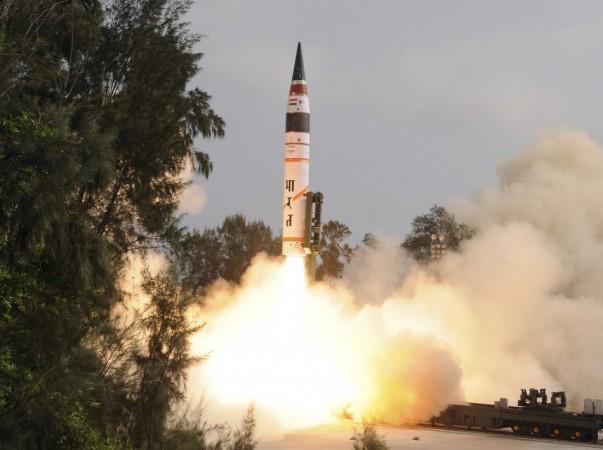 India is holding her head high with the successful test firing of Agni-V, a solid fueled Inter-continental Ballistic Missile (ICBM), which is capable of reaching deep into Asia and Europe. Many see it as a strategic move by India to strengthen its military keeping China in mind. But surprisingly, China doesn't see India's nuclear test as arms race.
"We are not rivals but cooperative partners. We should cherish the hard-earned momentum of cooperation," The Times of India quoted spokesman of the Chinese foreign ministry Liu Weimin as saying.
Liu Weimin referred to the recent BRICS meeting in New Delhi where Prime Minister Manmohan Singh and Chinese president Hu Jintao agreed to strengthen co-operation between the countries.
However, Global Times, owned by the Communist Party of China, has a completely different view. It claimed that China is superior to Indian in military.
"India should not overestimate its strength. Even if it has missiles that could reach most parts of China, that does not mean it will gain anything from being arrogant during disputes with China. India should be clear that China's nuclear power is stronger and more reliable. For the foreseeable future, India would stand no chance in an overall arms race with China," said Global Times.
However, it expressed the need for the two countries to co-operate on the international stage.
"China and India should develop as friendly a relationship as possible. Even if this cannot be achieved, the two should at least tolerate each other and learn to coexist," said Global Times, adding, "Their status as newly emerging countries shows the two should cooperate on the international stage. It would be unwise for China and India to seek a balance of power by developing missiles."
Meanwhile, India is excited over Thursday's successful launch of Agni-V that could cover the whole China and penetrate deep into Europe.
The indigenously built Agni-V with a range of more than 5,000 kilometers (3,100 miles) was test fired at Wheeler Island off Odisha coast at around 0807 hrs from Integrated Test Range (ITR).
Prime Minister Manmohan Singh called Defence Research and Development Organisation (DRDO) chief Dr V K Saraswat to congratulate him and his team for the successful test launch of Agni-V.
"DRDO and other organisations have worked tirelessly in our endeavour to strengthen the defence and security of our country. The nation stands together in honouring the scientific community who have done the country proud," said the PM through PMO twitter page.
The PM termed successful launch of Agni-V as a "milestone".
"Today's launch represents another milestone in our quest for our security, preparedness and to explore the frontiers of science," he said.
Defence minister A K Antony also congratulated DRDO chief Dr V K Saraswat over phone after the test was declared successful.
India has now joined elite nations that have Inter-continental Ballistic Missile capability. Till date, U.N. Security Council permanent members China, Russia, France, the United States and the United Kingdom have ICBM capability. Israel is also believed to have the capability.
The nuclear warhead-enabled Agni-V is 17 m long, 2 m wide and weighs 50 tonnes, and it can carry a pay-load of 1 tonne. It is an upgraded version of the indigenously built Agni series to be powered by solid rocket propellants. It is the fifth in the Agni series. India had earlier successfully test fired Agni-I (700-km), Agni-II (over 2,000-km), Agni-III (3,500 km- 5,000 km) and Agni-IV (of 2,500-3,500 km).
Sources said that DRDO has a series of plans on defence in the near future. The submarine-launched ballistic missile (SLBM) is expected to be operational by 1013 and a missile shield to combat drones by 2014. It is also working on quick-launch micro satellites and Star Wars-like laser weapons.