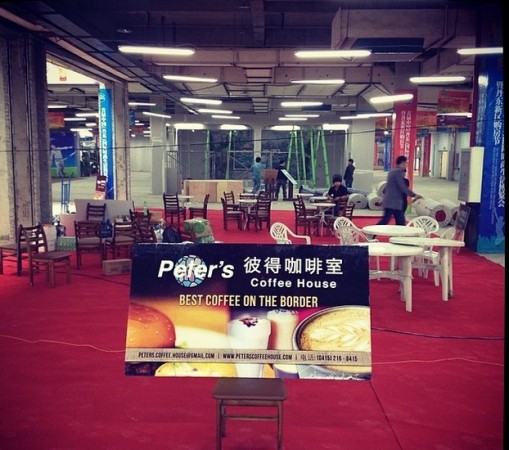 China said it was investigating a Canadian couple who ran a coffee shop on the Chinese border with North Korea for suspected theft of military and intelligence information and for threatening national security.
The official Chinese Xinhua News Agency identified the two suspects as Kevin Garratt and Julia Dawn Garratt. The State Security Bureau of Dandong City, northeast China's Liaoning Province, was investigating the case in accordance with the law, the official news wire said in a brief report.
The Chinese Foreign Ministry and Xinhua did not state if the couple had been detained, but the ministry said the Canadian embassy in Beijing was notified on Monday that the couple's 'rights' had been guaranteed.
Reuters cited the Canadian embassy as saying it was aware of the reports that two Canadians had been detained in China and was gathering more information on the case.
"Our consular officials stand ready to provide assistance as required," embassy spokeswoman Mary Anne Dehler told the news agency.
The Foreign Minister while announcing the case earlier said: "Kevin Garratt and his wife...are suspected of collecting and stealing intelligence materials related to Chinese military targets and important Chinese national defence scientific research programs, and engaging in activities that endanger China's national security."
Theft of state secrets in China is punishable with life in prison or death penalty, as the law that deals with the country's state secrets covers a big list that includes everything from industry data to the exact birth dates of state leaders.
The announcement of the suspected theft of state secrets came a week after Canada, in an unusual step, singled out Chinese hackers for attacking a key computer network and lodged a protest with the Chinese authorities.
The couple from Vancouver had been living in China since 1984 and had opened a coffee shop called Peter's Coffee House in Dandong – named after their son, according to the Canadian newspaper The Globe & Mail.
The Garratts ran a western-style coffee shop, which has a view of traffic flowing across the Yalu River in the region that divides China and North Korea.
"Unfortunately over the years we've seen the violation of secrecy laws in China often abused for other political reasons. And while I would view such a step as retrograde, I wouldn't be very surprised by it," the newspaper quoted Howard Bollach, a former Canadian ambassador to China who has spent decades in the country.