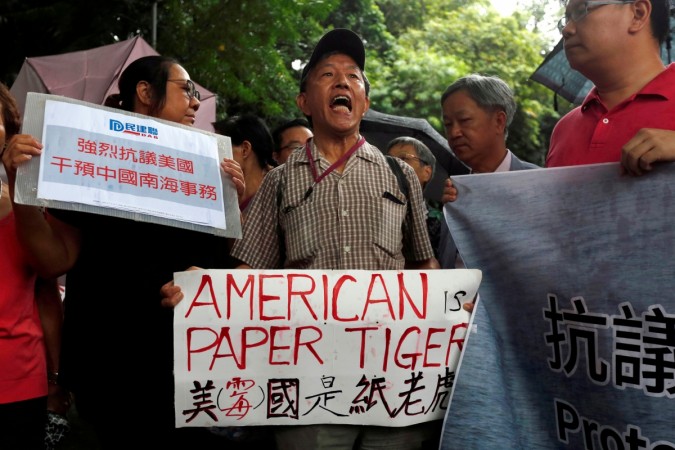 China is likely to face international ire on Friday, July 15, when world leaders meet at the Asia-Europe Meeting in Ulaanbaatar, Mongolia. The dragon's state media is breathing smoke in reaction to the U.N. arbitration that has ruled against China's claims in South China Sea dispute against the Philippines and this is likely to be discussed at the summit.
While smoke surrounds China daily's attempt at spreading disinformation regarding supporters of China's claims in the dispute, fiery words wore uttered on Thursday by GlobalTimes that insulted the United States and Japan as "paper tigers" and "eunuchs" and warned the military to prepare for "counter attack" if American warships holds military exercises in the disputed region.
Paper tigers and eunuchs
State-run Global Times, known for its nationalistic rhetoric, took swipes at the U.S. and Japan in an editorial titled "Blustering US a paper tiger in S.China Sea." The following are excerpts from the editorial.
An old Chinese saying goes 'the emperor doesn't worry but his eunuch does,' meaning the outsider is more anxious than the player. In this case, Washington and Tokyo are the worrying eunuchs"
"The calls for the use of force have only been heard when the U.S. clamoured to safeguard the freedom of navigation in the South China Sea, which mirrors that the U.S. hasn't made the determination to use the arbitration for a showdown with China in the waters….The People's Liberation Army should enhance its military deployment in the waters of the Nansha Islands (Spratly islands) and be fully prepared to counterattack if the U.S. makes further provocations"
"We do not wish for any direct confrontation or friction between the military powers... But if Washington insists on doing so, we will never flinch"
Since when does India support China's claims on South China Sea Dispute?
Even though the Chinese state run media China Daily claims that barring North and South America and Australia the whole world supports China's claims on the South China Sea, only a handful of countries, including Afghanistan, and most recently Pakistan who came out in support on July 12, are backing China's stance according to Asia Maritime Transparency Initiative (AMTI) from the Centre for Strategic and International Studies.
"To date, we have identified 50 countries that appear to be included in China's list of supporters. Of those, seven have publicly confirmed their support, three have denied Beijing's claim of support, and 40 have remained publicly silent or have issued statements that are considerably vaguer than indicated by China...In contrast, 10 countries plus the European Union have said that the arbitral award will be legally binding and have called on both China and the Philippines to respect it," an AMTI report said.
On the contrary, India's external affairs ministry released a statement backing the U.N. verdict and the Phillippines. Here are excerpts from the statement:
India supports freedom of navigation and over flight, and unimpeded commerce, based on the principles of international law, as reflected notably in the UNCLOS. India believes that States should resolve disputes through peaceful means without threat or use of force and exercise self-restraint in the conduct of activities that could complicate or escalate disputes affecting peace and stability.

Sea lanes of communication passing through the South China Sea are critical for peace, stability, prosperity and development. As a State Party to the UNCLOS, India urges all parties to show utmost respect for the UNCLOS, which establishes the international legal order of the seas and oceans