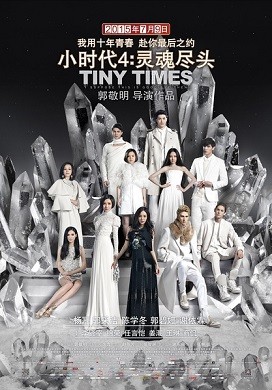 "Tiny Times 4: Soul's End", the fourth instalment of popular Chinese romantic film series, earned more than $58 million at the China box office in its first weekend.
The film was released on Friday, 11 July, and its four-day collection pipped that of several movies, including Chen Kaige's fantasy adventure "Monk Comes Down a Mountain", Colin Trevorrow's dino centric film "Jurassic World" and Timothy Kendall's "Hollywood Adventures".
While Kaige's movie was in the second position with $22.9 million in earnings, the fourth instalment of "Jurassic Park" film franchise was fourth with $6.56 million, while Kendall's action comedy film was sixth with earnings of $4.72 million.
The new instalment of Jingming's romantic film also created a new record at the box office by having the best opening of all the "Tiny Times" movies, according to Variety.
"Soul's End" revolves around the lives of four young girls from different parts of Shanghai and the challenges faced by them after finishing their studies. The film was criticised in China for portraying a luxurious lifestyle and promoting materialism.
During the premiere of the movie, Jingming stated that the film series has become a part of his life. "There will be no other film like Tiny Times, in which I have invested so much emotion. Some people say movies tell fictional stories, but they actually become part of my real life," Daily Record quoted him as saying.
The cast members of "Tiny Times 4" include Yang Mi, Amber Kuo, Cheney Chen, Bea Hayden Kuo, Xie Yilin, Lee Hyun-jae, Vivian Dawson, Ming Ren, Jiang Chao, Wang Lin and Kiwi Shang.